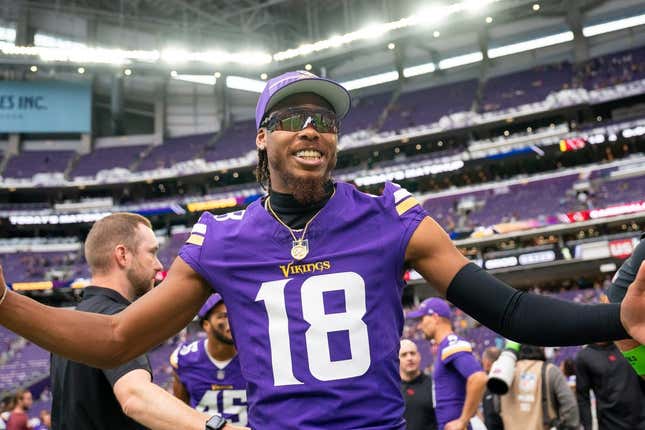 Minnesota Vikings star wide receiver Justin Jefferson said Thursday that he's very much interested in receiving a new contract, although he isn't certain if it will happen prior to the team's season opener.
Which Team USA player will have the most success this NBA season? | Agree to Disagree
"Of course I would want a contract to be done," Jefferson said. "But at the end of the day, it is all up to them and what the ownership want to do with that."
The Vikings open the season against the visiting Tampa Bay Buccaneers on Sunday in Minneapolis.
Vikings general manager Kwesi Adofo-Mensah said last week that the club intends to work a deal with Jefferson. He noted that some players opt to halt negotiations at the start of the season, although Jefferson kept the ball in the team's court in regard to that. "It's up to them," he said.
Jefferson has two seasons remaining on his current contract. He will receive approximately $2.4 million in 2023 and $19.743 million in 2024, and the Vikings can place him on the franchise tag in 2025 if a deal has not been reached.
Jefferson was asked if he had reached out to others who have gone through this process.
"I'm in a different situation," Jefferson responded. "I've done something that no one has ever done in the history of the game. So my situation is a little bit different than everyone else's. Of course, I'm going into my fourth year, trying to talk about contract two years early. There's so many different parts that go in towards it. That's why I leave it up to my agent and just keep my mindset on the field."
Jefferson, 24, has earned Pro Bowl honors in each of his first three seasons since being selected with the 22nd overall pick in the 2020 NFL Draft out of LSU. He has racked up 324 career catches for 4,825 yards and 25 touchdowns in 50 games (48 starts). He was also named to his first All-Pro team in 2022.
—Field Level Media