United Nations — The United Nations' education, science and culture agency, UNESCO, is best known around the world for the formal identification of World Heritage Sites — places such as Yellowstone National Park and international landmarks like Egypt's pyramids and India's Taj Mahal. But the U.N. agency has long been a point of political contention in Washington, and U.S. membership has been on-again-off-again for decades as various administrations grapple with allegations of bias.
On Monday, UNESCO's Executive Director announced that the U.S. intended to re-join the agency.
"This is a strong act of confidence, in UNESCO and in multilateralism," Audrey Azoulay, UNESCO's director-general, said at the agency's Paris headquarters. Speaking to CBS News about the decision by the Biden administration, Azoulay added a note to the U.S: "Welcome home."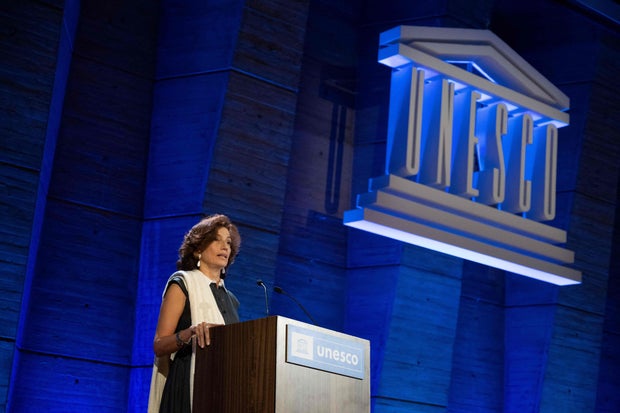 It's a major shift for Washington, but one that has played out before.
Then-President Ronald Reagan withdrew the U.S. from UNESCO in 1983. In 2002, George W. Bush put the country back in. In 2011, then-President Barack Obama was required by law to halt U.S. funding for the agency after UNESCO members voted to give the Palestinian delegation membership. Donald Trump's administration again withdrew the U.S. completely from the agency in 2018, leaving it only an observer to the organization, citing alleged bias against Israel.
UNESCO said in its statement announcing the U.S. intentions that, "in a letter sent to the Director-General, the U.S. Department of State welcomed the way in which UNESCO had addressed in recent years emerging challenges, modernized its management, and reduced political tensions," adding that the agency's leader, Azoulay, had "led the mediations that made it possible to reduce political tensions and find consensus on the most sensitive topics, such as the Middle East."
The Biden administration's decision to propose a plan for re-entry was based on several factors, including the U.S. Congress granting a waiver that was required for the country to resume funding of the agency.
The proposal for the U.S. to re-join was laid out by U.S. Deputy Secretary of State for Management and Resources Richard Verma in a letter to Azoulay, obtained by CBS News, which says the Biden administration will work with congress to provide $10 million in private voluntary funding, "in support UNESCO's programming for Holocaust education, journalist safety, the preservation of cultural heritage in Ukraine, and science, technology, engineering, and math education in Africa."
The U.S. would also provide the contribution for the remainder of 2023 and the administration will request that congress appropriate $150 million in 2024 to pay its bill and contribute to U.S. arrears, and continue to do so "until U.S. arrears are fully resolved" — estimated to be around $600 million. The U.S. proposal must still be confirmed at the July General Conference meeting of UNESCO members.
"The World Jewish Congress and UNESCO work closely together to promote Holocaust education and remembrance projects globally," World Jewish Congress President Ronald S. Lauder told CBS News. "We're hopeful that with the renewal of the United States contribution to UNESCO, the additional resources will enable the organization to expand these programs by developing new tools that enable future generations to learn about the Holocaust in innovative and effective ways."
The additional resources will enable UNESCO to build on programs that Azoulay, a French national who's Jewish with Moroccan heritage, led the agency to create, including a Holocaust education program and guidelines against antisemitism.
The second major factor behind the Biden administration's decision to re-join UNESCO was explained by Undersecretary of State for Management John Bass in March, when he said that if the U.S. chose to re-join, it would "help us address a key opportunity cost that our absence is creating in our global competition with China."
"If we're really serious about the digital age competition with China, from my perspective, in a clear-eyed set of interests, we can't afford to be absent any longer from one of the key fora in which standards around education for science and technology are set," Bass said.
"The Biden administration has always made it clear that it is suspicious of China's rising influence in the U.N.," Richard Gowan, U.N. Director for the International Crisis Group, told CBS News on Tuesday. "Biden's team believes that Trump ceded a lot of ground to China with its anti-U.N. attitude. The decision to rejoin UNESCO is just the latest example of the U.S. deciding it can do more to counter China by actively engaging in U.N. institutions than sitting on the sidelines."
Thanks for reading CBS NEWS.
Create your free account or log in

for more features.