Police in central England said Tuesday morning that a 31-year-old man was arrested on suspicion of murder after three people were found dead in two locations on the streets of Nottingham. There was no immediate word on a possible motive. 
The Nottinghamshire Police said they were not seeking any further suspects in the apparent killings.
"We are keeping an open mind as we investigate the circumstances surrounding these incidents and are working alongside Counter Terrorism Policing to establish the facts — as we would normally do in these types of circumstances," the police said in a statement.   
Nottinghamshire Chief Constable Kate Meynell said earlier that police believed "these three incidents are all linked and we have a man in custody" after what she described as "an horrific and tragic incident which has claimed the lives of three people."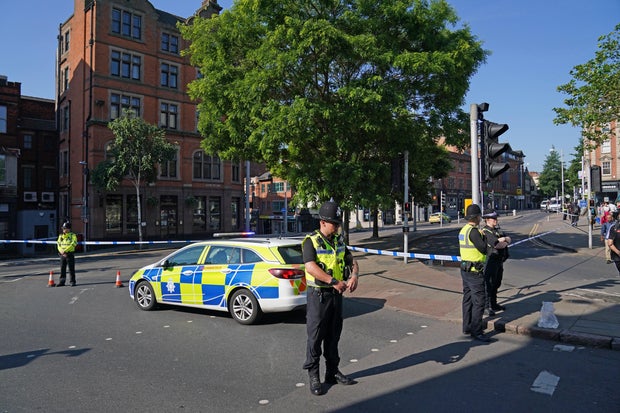 Witnesses told British media outlets they were awakened at about 5:30 a.m. local time by the sound of gunfire, and one man captured video he said was police pinning the suspect to the ground after they apparently followed him in an unmarked police vehicle and then shot him with tasers.
Police said in the statement that officers were called to the first scene just after 4 a.m. and found two people dead in the street. They were then alerted to another incident not far away "where a van had attempted to run over three people," according to the statement.
The three survived but were being treated at a local hospital, one of them in a critical condition, police said. It was near that last scene where the suspect, who was not immediately identified, was apprehended.
Police said they later found another man dead on a different road, at a third location in the city.
The University of Nottingham confirmed in a statement later Tuesday the "sudden and unexpected death of two of our students following a major incident in Nottingham city centre overnight," without providing further information on the victims.
Witness Lynn Haggitt told the BBC that she saw a van hit two people at about 5:30 a.m. local time near Nottingham's Theatre Royal.
"He looked in his mirror, saw a police car behind him, he then quickened up, there were two people… he went straight into these two people," she told the BBC.
About a half dozen roads in Nottingham, which has a population of about 330,000, remained closed Tuesday morning amid the ongoing police investigation, and there were also closures on the city's tram network.
CBS News' Emmet Lyons contributed to this report. 
Tucker Reals is the CBSNews.com foreign editor, based at the CBS News London bureau.
Thanks for reading CBS NEWS.
Create your free account or log in

for more features.