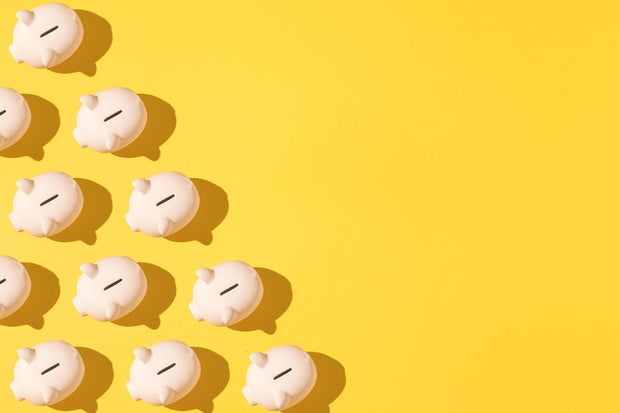 After more than a year of consistently higher rates — moving interest rates from pandemic lows near zero to a range between 5% and 5.25% — the Federal Reserve today decided against another rate hike.
While that's good news for borrowers with high interest rates on loans and lines of credit, savers may not be so thrilled. Over the past several months, high-yield savings accounts have emerged as a great resource for savers to keep their money safe while boosting their balances with interest payments.
The Fed's pause does not yet mark the end of great savings rates. In fact, the Fed decided not to lower its target fed funds rate range, so current high rates will remain — at least for now. But you can still benefit more from acting sooner rather than later. As the Fed evaluates more data showing the impact of rate hikes in the next few months, it could lead to an extended pause or even lower interest rates in the months and year to come.
That makes today an ideal time to start taking advantage of high-earning savings accounts. Take action now by comparing the best high-yield savings rates available today and start earning more money.
5 savings accounts to open now
These high-yield savings accounts have some of the best rates you'll find today. Even with a pause in interest rate hikes, these accounts can help you increase your savings balance with interest earnings in the near-term.
Popular Direct: 5.00% APY
Popular Direct offers one of the only high-yield savings accounts today earning 5% APY. To get that rate, you'll need just a $100 minimum deposit. There are no monthly fees, but you may incur a $25 fee if you close your account within 180 days of opening.
Bask Bank: 4.85% APY
The Interest Savings Account from Bask Bank earns 4.85% APY. There are no monthly fees and this account doesn't have any required minimum balance. However, you will need to fund your account with something within 15 days of opening.
CIT Bank: 4.85% APY
CIT Bank's Platinum Savings account is another 4.85% APY high-yield savings option. There are no monthly fees, but to earn that high rate you must have a balance of at least $5,000, after a minimum opening deposit of $100. If you drop below the $5,000 balance requirement, your interest rate will fall to just 0.25% APY.
Bread Savings: 4.75% APY
You can earn 4.75% APY on your savings balance with Bread Savings. This account has no monthly fees (don't forget to opt out of $5 paper statements) and the minimum opening deposit is just $100.
Citizens Access: 4.50% APY
The high-yield savings account from Citizens Access earns a solid 4.50% APY, with no monthly fees. This account may be a good option if you don't already have much money saved, since the opening deposit minimum is just $0.01.
Find more of today's best rates and start working toward your savings goals here now!
What a Fed rate pause means for savers
With interest rates paused, you may not see banks upping the rates offered on high-yield savings accounts. However, you can count on your current interest rate holding for at least a while.
"Interest rates will probably not drop anytime soon, so the relatively high interest rates will likely continue," says Cristina Guglielmetti, CFP, founder of Future Perfect Planning.
And there's another silver lining for savers to come out of today's decision: Despite the current pause, the Fed is still leaving the door open for future rate hikes.
The Fed said it would "continue to monitor the implications of incoming information" ahead of future decisions. "The Committee would be prepared to adjust the stance of monetary policy as appropriate if risks emerge that could impede the attainment of the Committee's goals," — which includes bringing inflation down to its 2% target.
With four rate decisions still left in the year, savers will have to wait and see just how long interest rates may remain high. But with a ways to go before the Fed's goals are met, they can rest assured that now is still a great time to benefit from high savings rates.
"If I had to predict I'd say rates will increase a small amount from here but will stay relatively stable for the rest of the year," Guglielmetti says.
The bottom line
The Fed decided today to keep interest rates at the current 5% to 5.25% target range. For savers, that means high-yield savings rates may not go up, but they can still boost their savings with rates ranging between 4% to 4.5% and even up to 5% APY. You can make the most of your savings this year by opening a high-yield savings account sooner rather than later and taking advantage of high rates for as long as possible. Get started here now.
Thanks for reading CBS NEWS.
Create your free account or log in

for more features.