This blackened salmon is seasoned with homemade cajun seasoning and broiled for only 8 minutes. It is flavorful and easy to make any night of the week.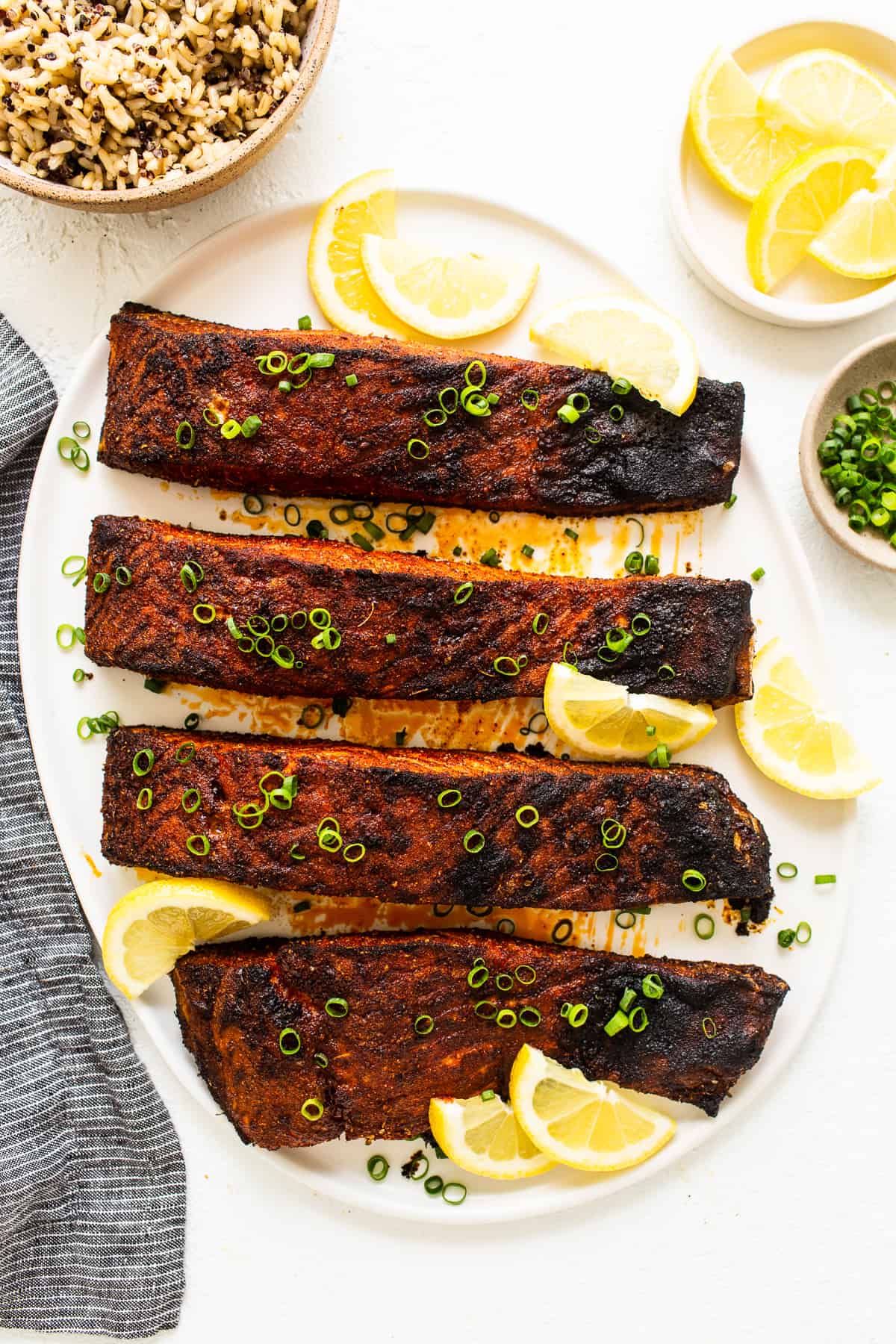 Delicious Blackened Salmon
Have you ever wondered what makes blackened salmon, blackened salmon? It's simple, blackened salmon is traditionally salmon that is seasoned with a cajun-inspired spice mix and the blackened by broiling the salmon in the oven.
It is an easy way to make a very flavorful salmon recipe. You can serve your salmon with grains, salads, or use leftovers in a salmon salad. The options are endless.
Why you'll love it!
Reasons why you'll love it.
This salmon only takes 8 minutes to prepare.
It is spicy and delicious.
You and make extra salmon to use throughout the week.
Featured Ingredients
Salmon filets: skin on salmon filets are the best for this recipe. We also recommend trying to buy or cut four salmon filets that are about the same size so that they cook evenly.
Cajun seasoning: we made homemade cajun seasoning for this recipe. It is more mild than store bought cajun seasoning. If you like things spicer, you can add more cayanne pepper to the homemade cajun seasoning.
Lemon slices: fresh lemon juice brings this blackened salmon adds so much brightness to the fish.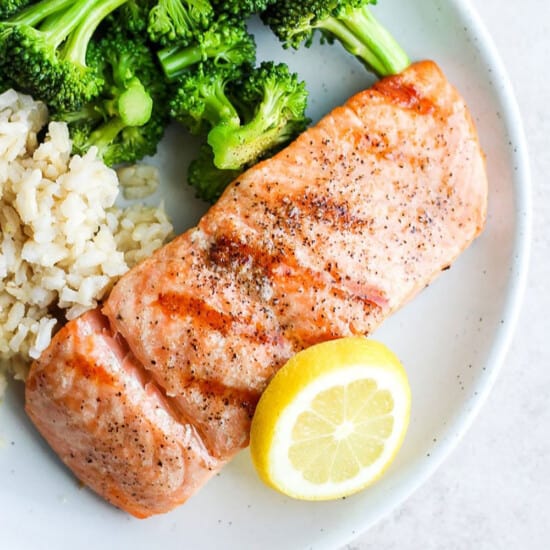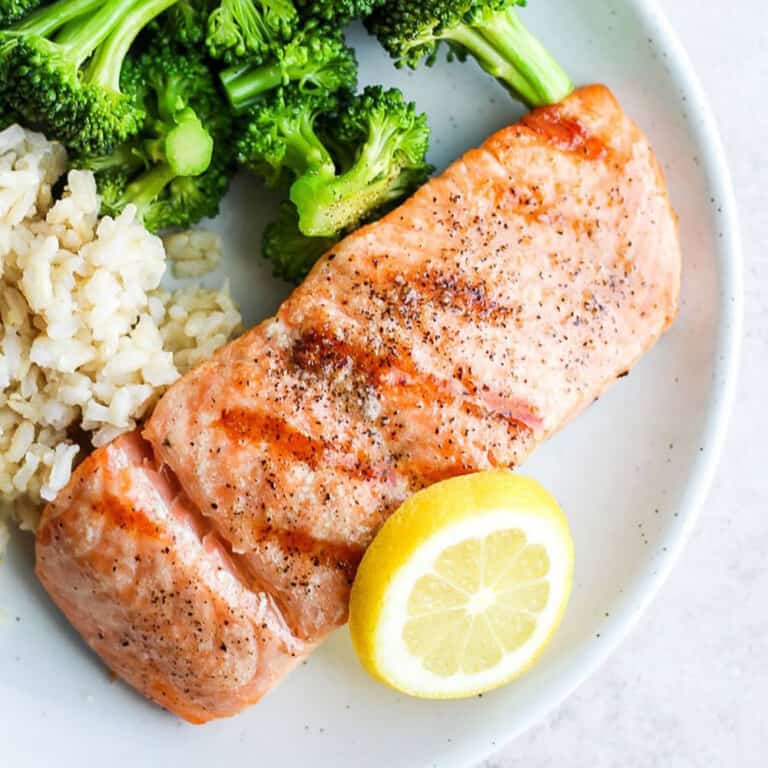 Quick Tip!
Salmon Internal Temperature
How do you know when salmon is done? The internal temperature should read 125ºF to 130ºF and the color should be light pink.
Simple Instructions
Dry the filets. Line a baking sheet with parchment paper and then place the salmon filet skin side down on a baking sheet. Use a paper towel to blot the salmon filets and remove excess moisture.
Season the salmon. Season each filet with 1 tablespoon of cajun seasoning and pat the seasoning onto the filet. This will turn into a 'crust' after broiling. Drizzle the oil over the filets.
Broil the salmon. Place the baking sheet on the top shelf of the oven and broil the salmon for 8 minutes or until the seasonings begin to brown and almost blacken.
Serve. Let the salmon rest for 15 minutes and then squeeze fresh lemon juice over the salmon and enjoy.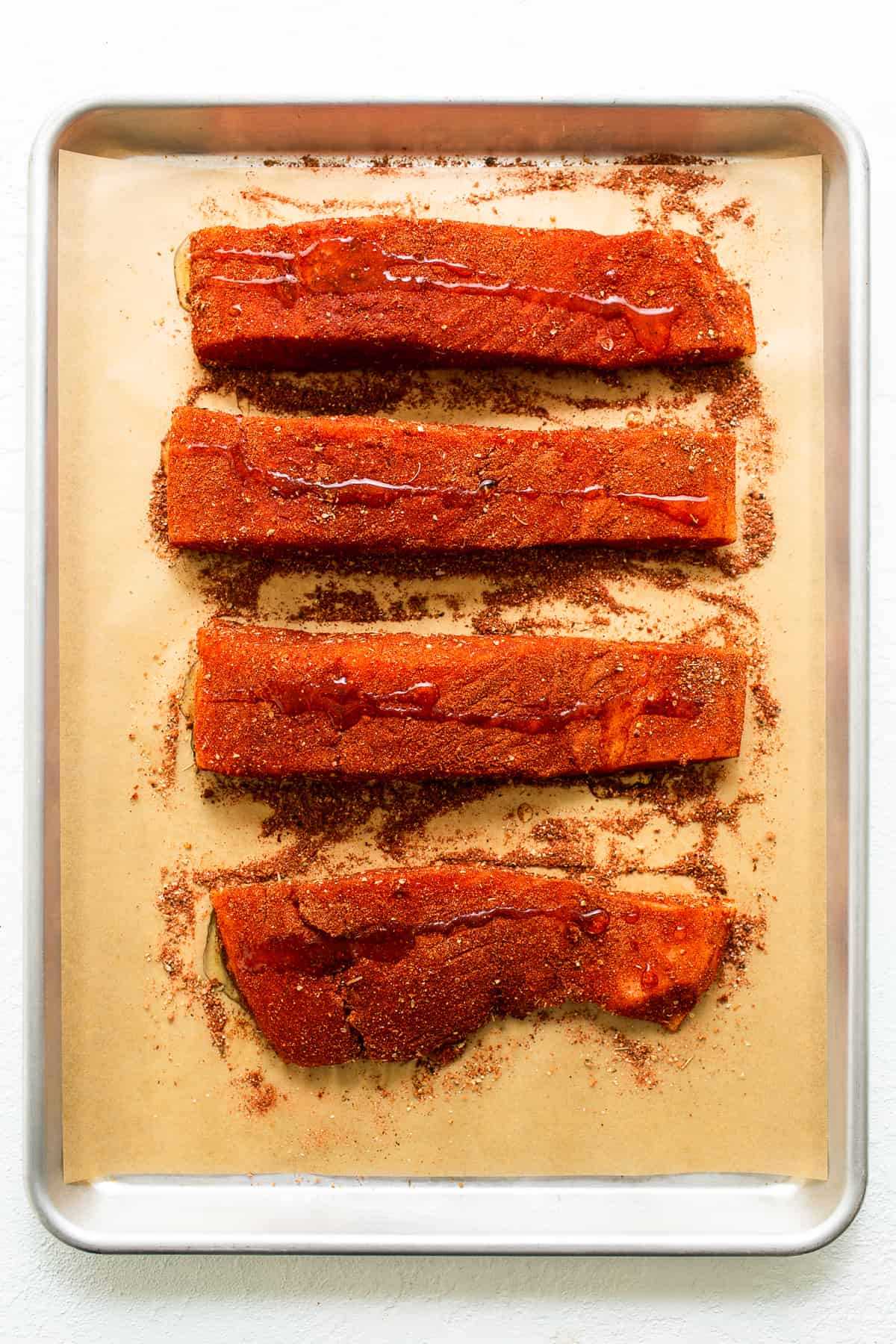 Top Tips
Remove as much moisture as possible to the salmon before seasoning the filets with salmon.
Be sure the salmon is close enough to the top of the stove so that the salmon will actually blacken in 8 minutes.
Don't forget to let the salmon rest for 15 minutes so that the juices absorb into the salmon.
If the salmon is too spicy, serve the blackened salmon with this tasty green goddess dressing.
FAQ
What does it mean when fish is blackened?
When a fish is blackened it is simply cooked with a special spice blend that turns black in color when it is cooked.
How healthy is blackened salmon?
Blackened salmon is good for you. It offers omega-3 acids, protein, and potassium.
Do you flip blackened salmon?
Do not flip blackened salmon if you are broiling it in the oven.
Try Surrender Salmon!
Our all-time favorite salmon is Surrender Salmon. They catch wild-Alaskan salmon off of Bristol Bay in Alaska. The salmon is bright orange, so flakey and delicious, and truly the best.
Surrender Salmon is a family-run company based here in Minneapolis and they are good friends of ours! Support a local business if you can.
Storage
Let the salmon cool completely before placing it in an airtight container. Place it in the refrigerator for up to 5 days.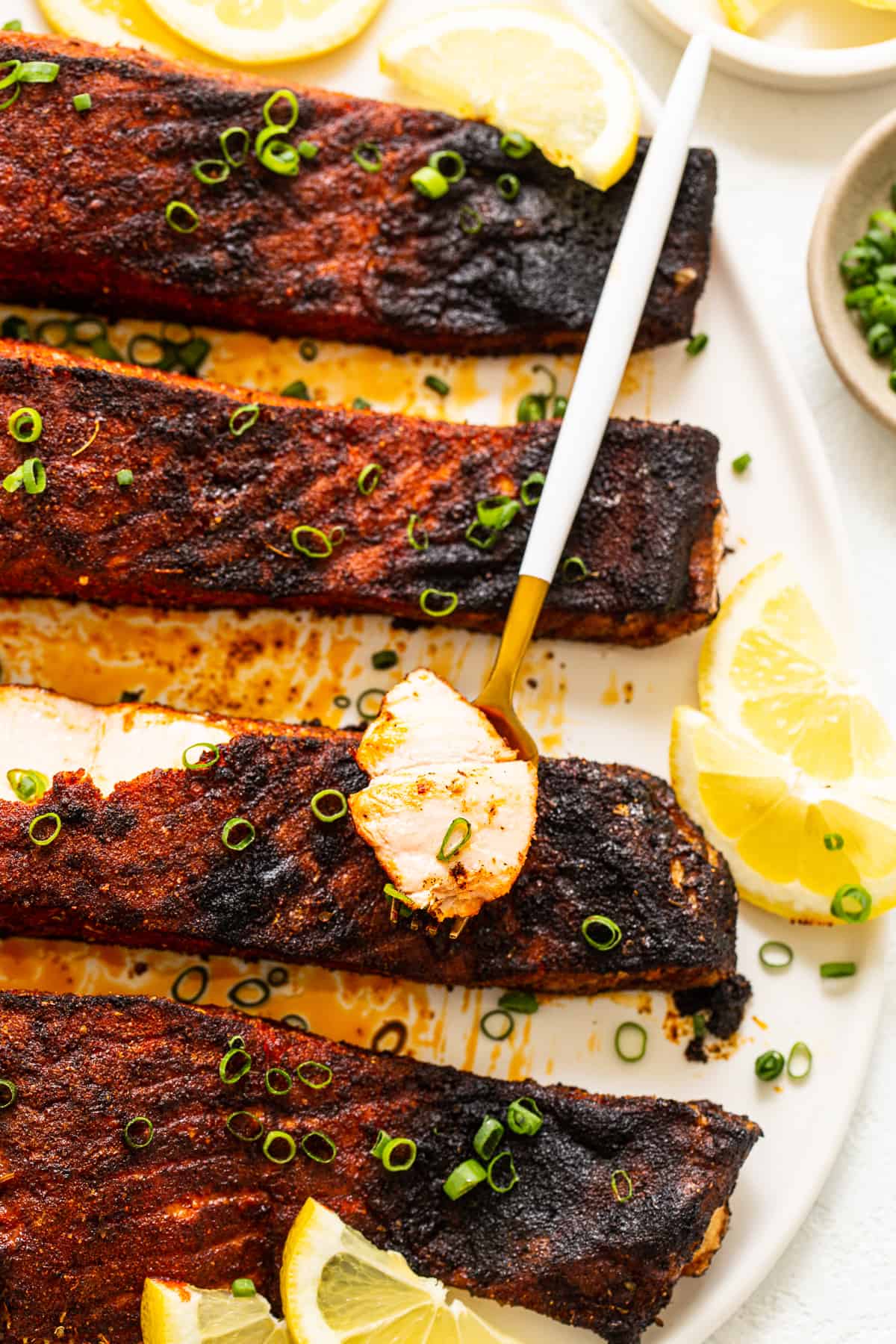 Ingredients
2

lb.

skin-on salmon filets

4 ½-lb. filets

¼

cup

homemade cajun seasoning

1

tablespoon

olive oil or avocado oil

4

fresh lemon slices
Tips & Notes
How spicy your salmon is will depend on what cajun seasoning you use. We used a homemade cajun seasoning that is Minnesota Nice (not super spicy). If you use a store bought spice mix, add 1-2 teaspoons of brown sugar to the mix to tone down the spice if needed.
Nutrition facts
Calories: 379kcal Carbohydrates: 6g Protein: 46g Fat: 19g Fiber: 2g Sugar: 1g