The confirmed implosion of the OceanGate submersible carrying five tourists to the depths of the ocean has brought new scrutiny on the company behind the expedition — including past comments made by the pilot of the sub who was among those who died. 
A clip has resurfaced of sub pilot and OceanGate CEO Stockton Rush giving an interview in 2021, in which he says he's "broken some rules" to make trips to the Titanic possible for his company. The interview was done with vlogger Alan Estrada, who joined him on a trip that year to the Titanic wreck aboard the Titan vessel.
"I'd like to be remembered as an innovator. I think it was General [Douglas] MacArthur who said, 'You're remembered for the rules you break,'" Rush said. "And I've broken some rules to make this. I think I've broken them with logic and good engineering behind me." 
Speaking to Estrada, Rush specifically discussed the vessel's design, which many have been questioning as news of its fate came to light. 
"The carbon fiber and titanium – there's a rule you don't do that," Rush said, speaking of the materials used to construct the sub. "Well, I did. It's picking the rules that you break that are the ones that will add value to others and add value to society, and that really to me is about innovation."
Will Kohnen, chairman of the Manned Underwater Vehicles Committee of the Marine Technology Society, told Reuters that while carbon fiber was a "unique" approach, "nobody had ever made a carbon fiber pressure hull for that depth before." 
"It is very difficult to test and verify," he said. "…Metallic hulls have elasticity to them. We know how they behave. … But carbon fiber – very, very strong in tension. They're not so strong in compression. And we know that. But it is how do they react under extreme pressure that leaves a lot of research."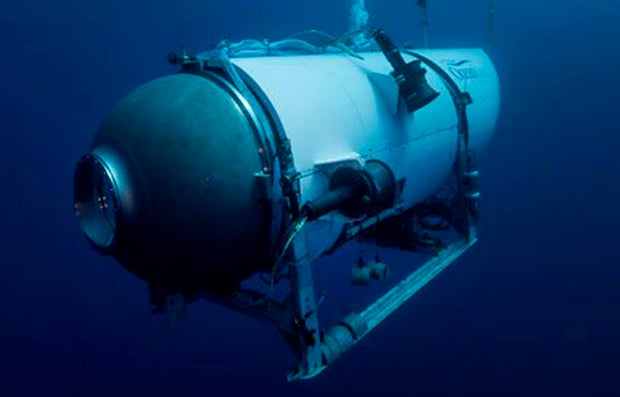 Part of the sub was also a 7-inch-thick acrylic plexiglass window that Rush said would "squeeze in about 3/4 of an inch."
"It just deforms," he said, addressing the immense underwater pressure that the vessel would face. "…Before it cracks or fails, it starts to crackle so you'll get a huge warning if it's gonna fail."
Those comments were made when the sub was still in its "trial phase," Estrada noted in the video. But for Rush, the trial phase wouldn't prevent him from dreaming big for its future. 
He told Estrada that he had hoped to make the vessel much more sophisticated technology-wise. Eventually, he wanted to be able to walk in and the sub be able to sense a voice so that it asks, "Stockton, how deep are we diving today?" 
"The sub is your vehicle to get there. It should be an elevator," Rush said. "It should not be an exercise in buttons and switches and stuff."
After the sub went missing on Sunday, Estrada told Reuters that when he went down with the vessel, they lost communication at about 3,280 feet. The doomed OceanGate excursion experienced a loss of communication, about an hour and 45 minutes after it departed. 
CBS News' David Pogue, who traveled on the Titan submersible last year, told "CBS Mornings" on Friday that "there were things that seemed sort of unsophisticated" when he went on the vessel last year. He even brought it up to Rush. 
"He said, 'Yeah, that's true. But these are just bells and whistles. The part that keeps you alive, the part we care about, is that carbon fiber cylinder and titanium end caps,'" Pogue recalled. "And that, he said, 'is buttoned down.'"
But some experts had previously questioned the safety of the vessel. 
In 2018, a professional trade group wrote a letter warning that the Titan's design could have "catastrophic" outcomes. Also that year, an OceanGate employee raised concerns about the vessel's safety and how the company was testing it and was later fired. The vessel was reportedly never certified DNV-GL, a high standard among marine equipment.
Then in February, just a few months before the ill-fated trip, a couple in Florida sued OceanGate saying they had paid for a trip that had been canceled multiple times and they hadn't gotten a refund. One of the trips, they allege, didn't happen because of "equipment failure." 
But Pogue said that while many are questioning Rush's designs, they should remember that he was a "Princeton-educated aerospace engineer" who built and designed airplanes and previous submersibles. The Titan itself, he added, had been "to the sea floor 20 times uneventfully."
But Rush had also claimed that the Titan was designed with collaboration from NASA, the University of Washington and Boeing. In a statement, the University of Washington said its Applied Physics Laboratory provided engineering services to the company and Rush from 2013 to 2020, but on a different submersible. The one they helped with was the CYCLOPS – and at that point was steel-hulled and only meant for shallow dives up to 500 meters, the school said.  
Boeing told CBS News, that it "was not a partner on the Titan and did not design or build it."
CBS News has reached out to NASA for comment.
"Yes, it looks terrible now. Yes, we see things that were missed," he said. "But nobody thought anything at the time." 
Thanks for reading CBS NEWS.
Create your free account or log in

for more features.