This tropical spinach smoothie is packed with greens, tropical fruit, and other simple ingredients. Blend everything together until it is thick and creamy. It makes the perfect healthy breakfast.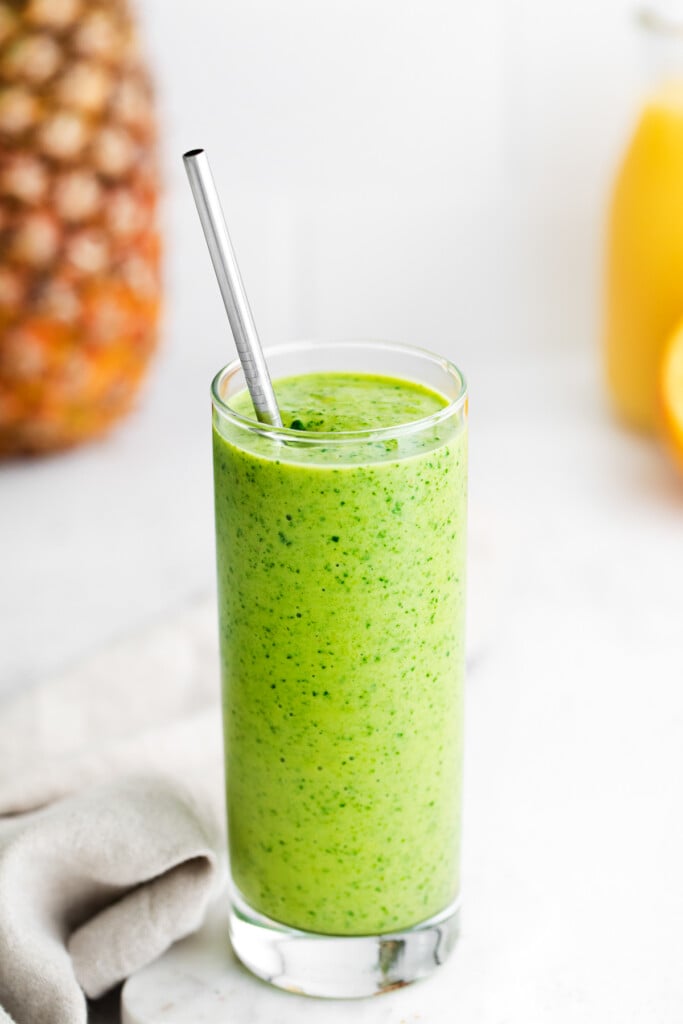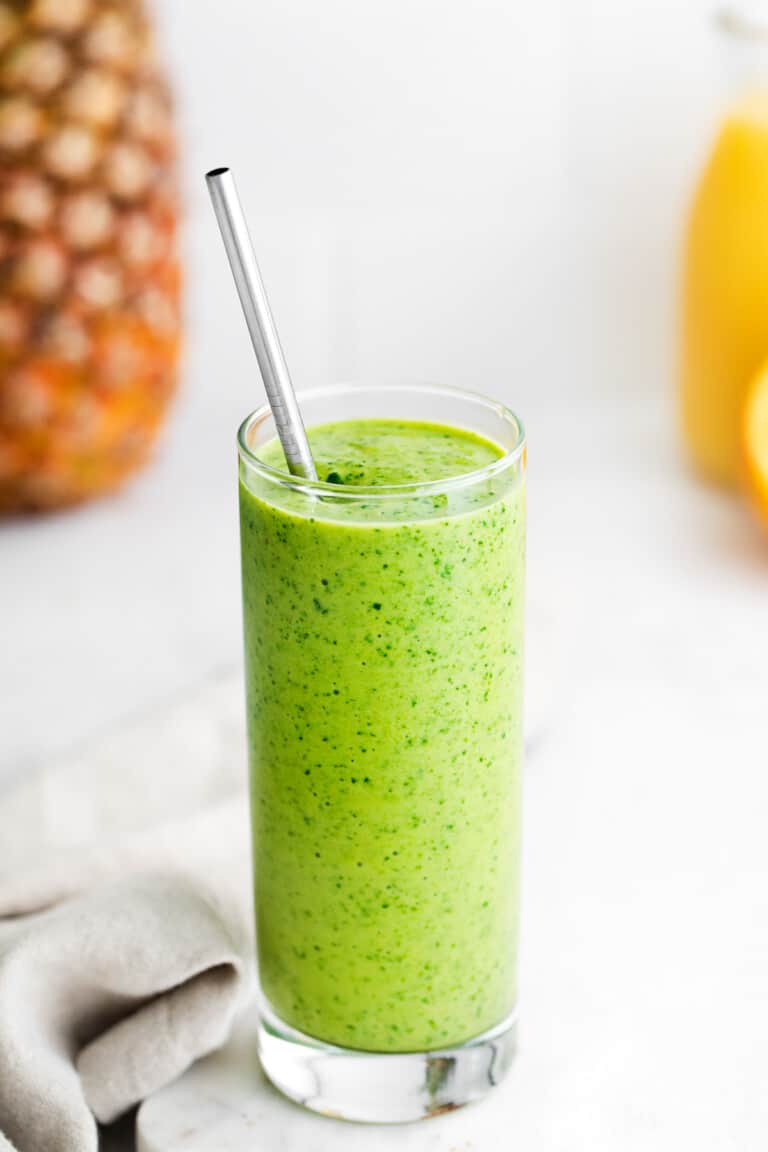 Healthy Spinach Smoothie
There is no reason to drink a spinach smoothie that actually tastes like spinach, people. Make yourself a delicious healthy smoothie and enjoy it by blending up this tropical spinach smoothie.
Blending up delicious frozen fruit with spinach really does blend up a thick and creamy smoothie that has no signs of spinach other than the green color!
Why make a spinach smoothie?
You get a full serving of veggies when you blend up this green smoothie.
Spinach smoothies are a great breakfast.
This tropical green smoothie recipe is packed with vitamin c and nutrients!
It is easy to make this spinach smoothie for yourself or the whole family!
Ingredients You Need
Here are the simple ingredients that you need for this tropical spinach smoothie along with some substitution options!
Tropical blend frozen fruit: a tropical fruit blend is both delicious and helps to cover the taste of spinach in any smoothie! Our tropical blend had mango, pineapple, banana & peaches. Feel free to use your favorite fruit blend or freeze fresh fruit for later!
Fresh spinach: We pack 2 cups of fresh spinach into this smoothie! Feel free to use 10oz. of frozen spinach in your smoothie. However, we prefer fresh spinach!
Plain Greek yogurt: the Greek yogurt in this recipe adds both protein and a delicious tart flavor to the spinach smoothie! You can use any type of yogurt that you would like!
Orange juice: you need some kind of liquid to blend up with your smoothie. Orange juice adds a tartness and compliments the tropical flavors of this smoothie. If you don't have orange juice, use almond milk (or your favorite milk).
add protein!
Do you want to add protein to this tropical spinach smoothie? Go for it! Add a scoop of your favorite protein powder (about 1/4 cup) to this smoothie recipe.
If you're looking for a new protein powder check out our guide to protein powders for inspiration!
our top 3 protein powders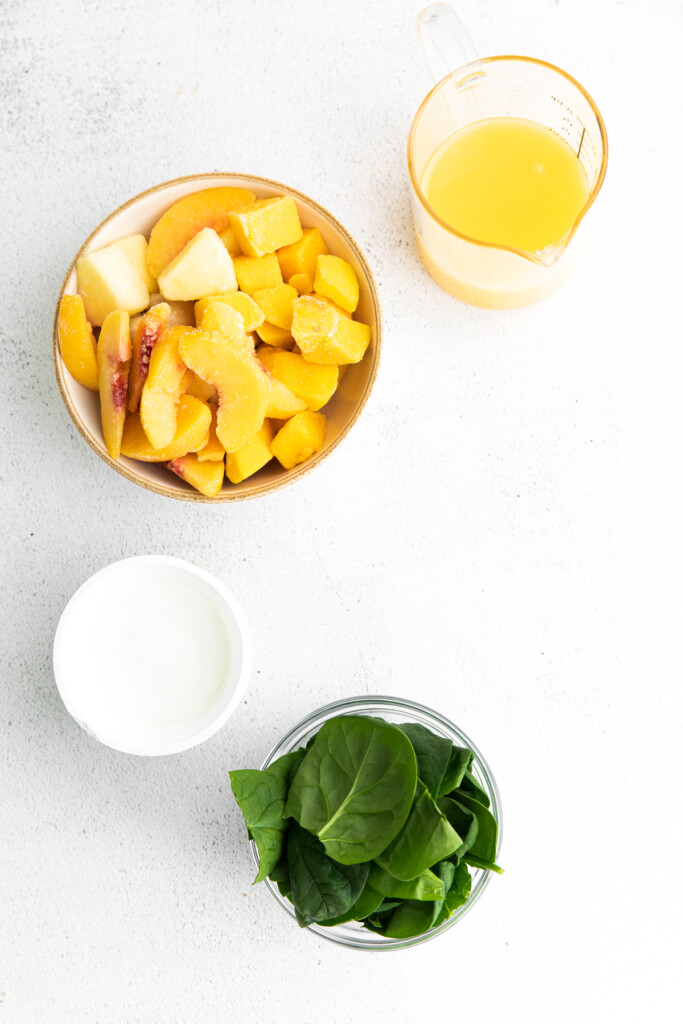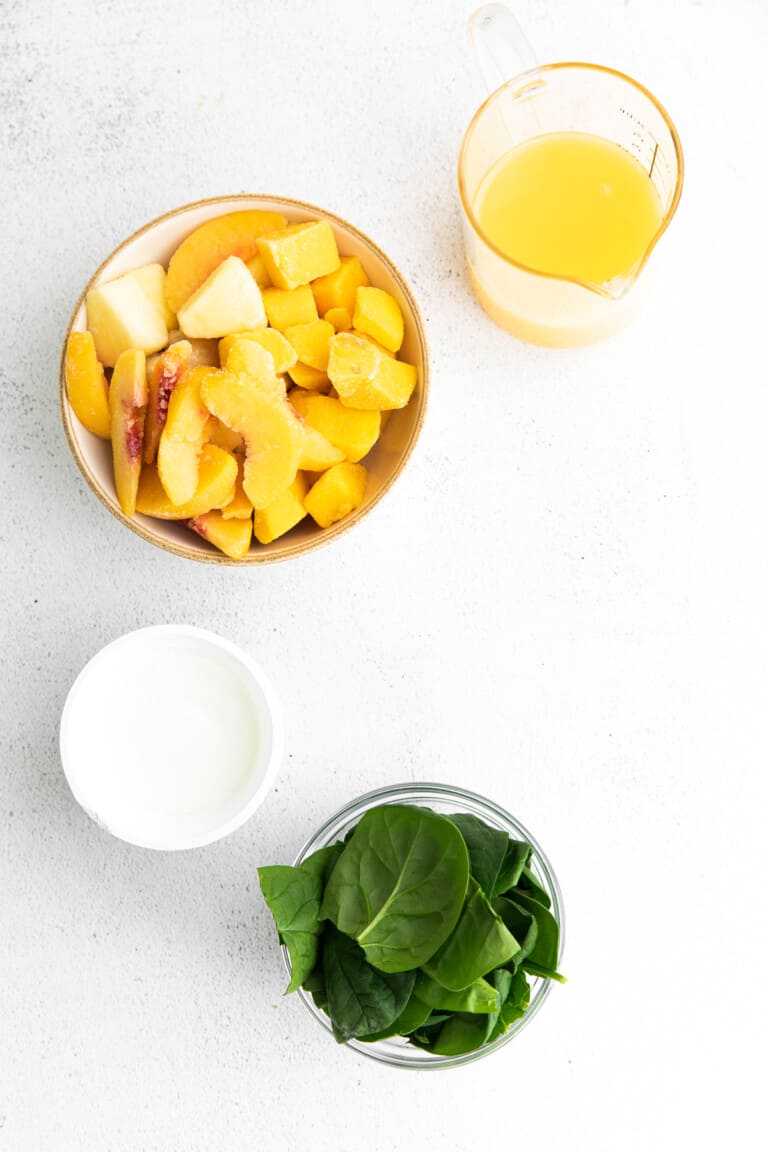 What Type of Blender Works Best?
Before you blend everything together, be sure that you have a high speed blender. Why? Because a high speed blender can really break down all ingredients and create a thick and creamy consistency!
You know you have a high powered blender if all of your ingredients blend well together and there aren't a ton of spinach fragments in your smoothie.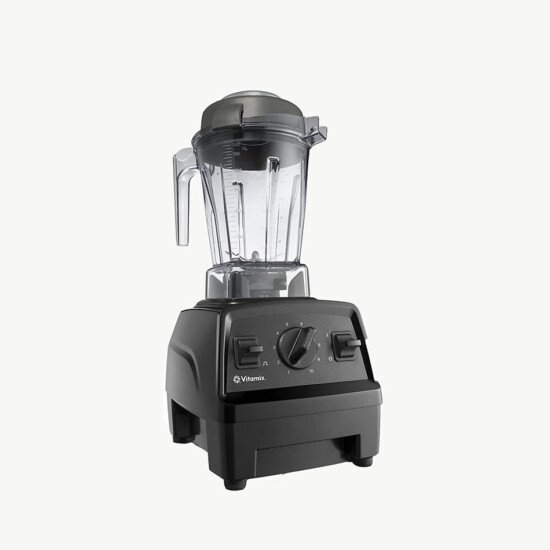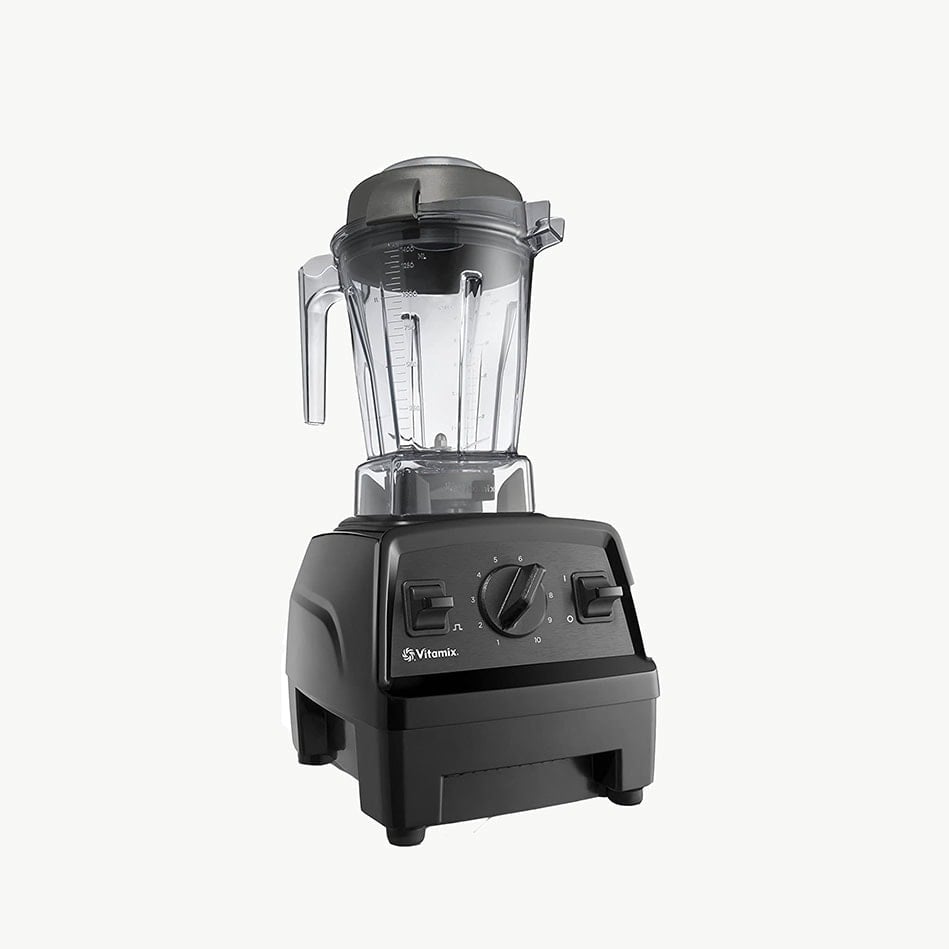 Our Favorite
Blender
Looking to upgrade your blender? Check out our favorite Vitamix Blender. It's our favorite high-speed blender perfect for making smoothies, soups, and nut butter.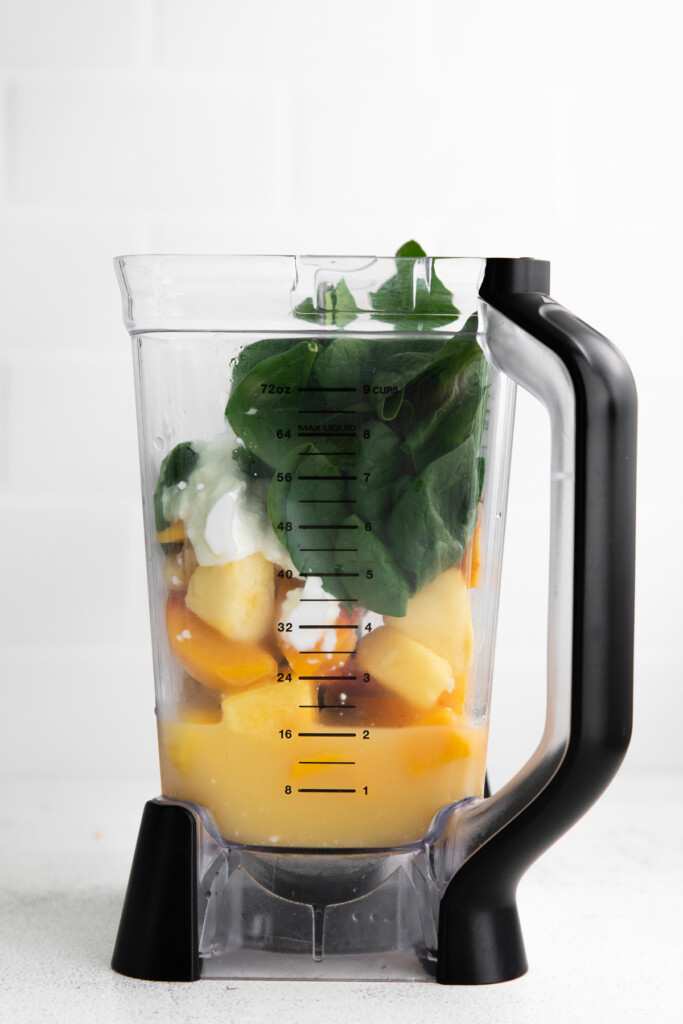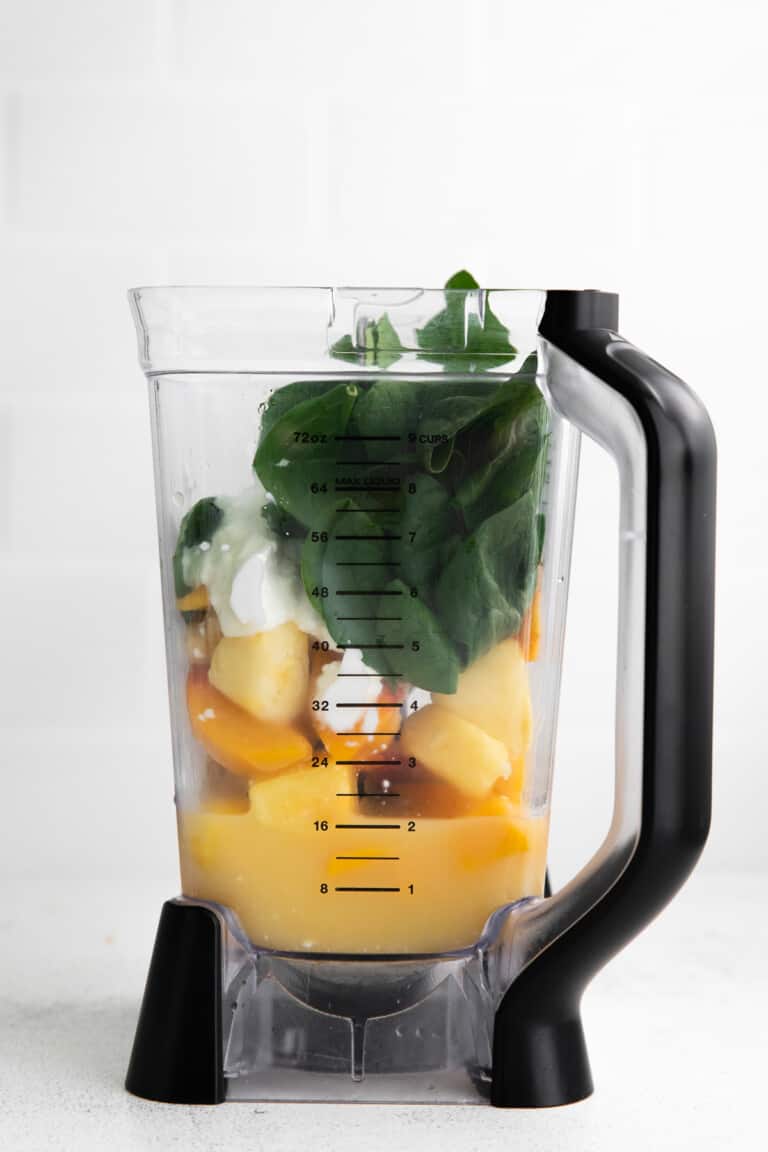 How to Make a Spinach Smoothie
Place all ingredients in your smoothie! We like to be sure that the liquid is on the bottom of the blender!
Blend everything together on high. You may need to stir everything together a few times if you don't have a high powered blender. If that doesn't do the trick, add a little more orange juice at a time to help get things moving in the blender.
Serve! Pour your tropical green smoothie into two glasses and top with fresh fruit, chia seeds, granola, or just drink it as is!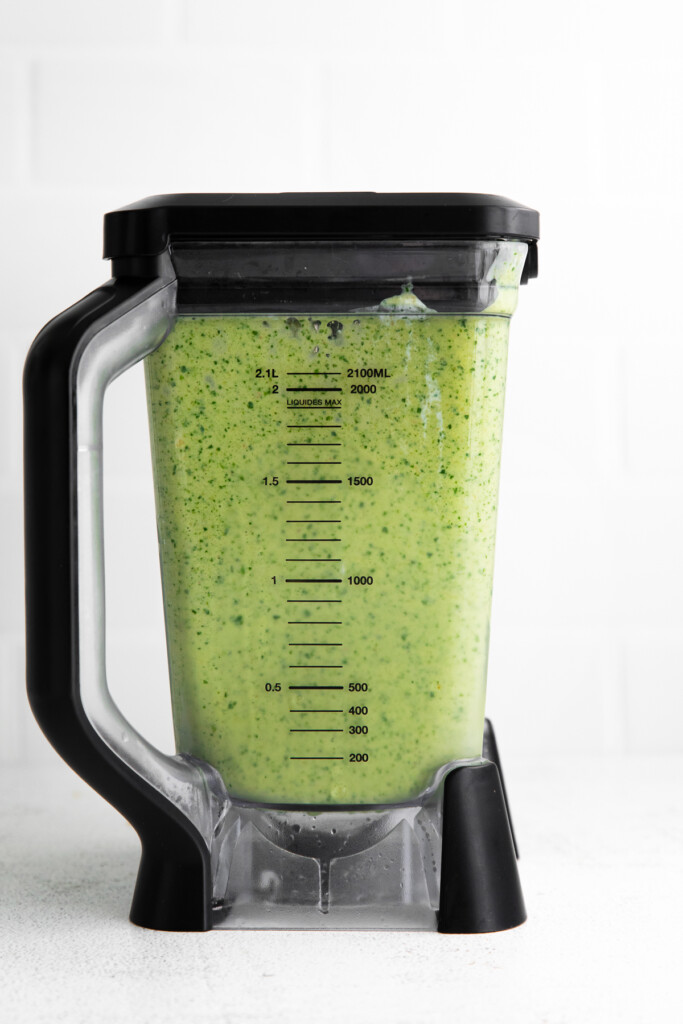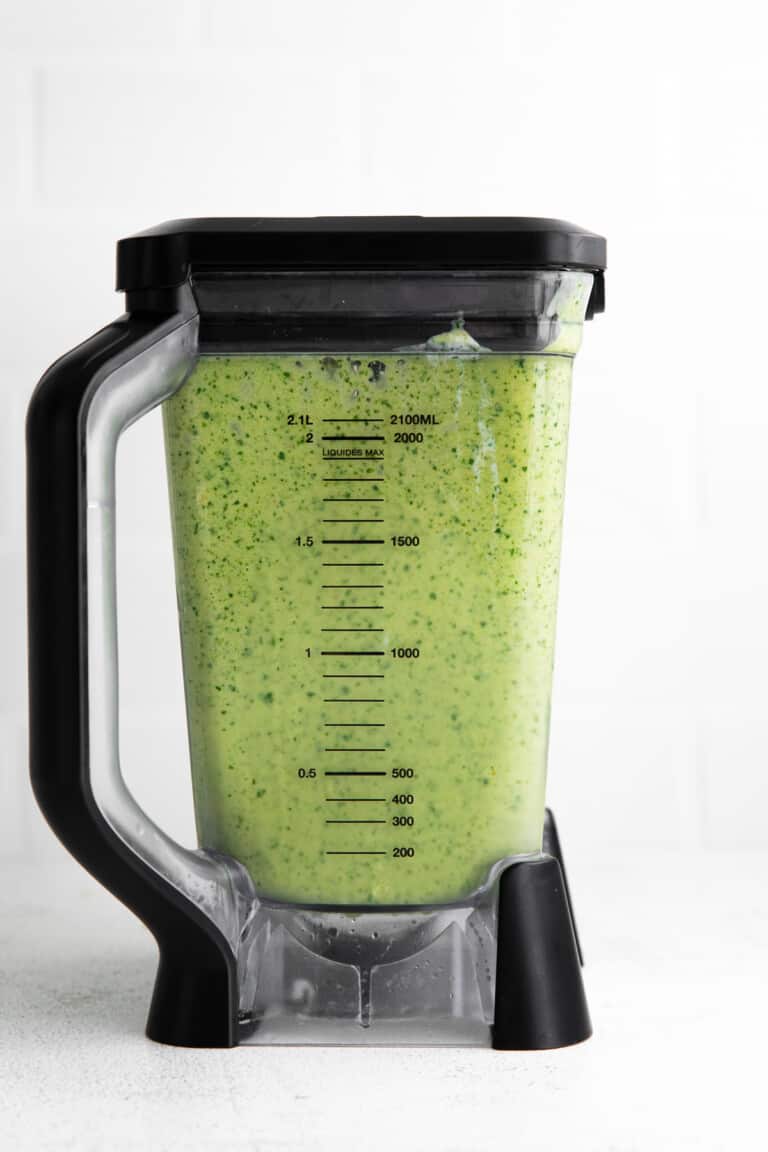 Spinach Smoothie Q&A
Are spinach smoothies healthy?
Yes, spinach smoothies are healthy. You get so many vitamins, minerals, and nutrients.
Can you put raw spinach in a smoothie?
Yes, we prefer raw fresh spinach in smoothies. However, frozen spinach works too!
Can you taste spinach in fruit smoothies?
No, you can't taste the spinach in this tropical spinach smoothie!
What are the best toppings for spinach smoothies?
We love to top our tropical spinach smoothie with homemade healthy granola. Feel free to top this smoothie with your favorite granola or fresh berries.
Do you put ice in smoothies?
We do not use ice in our smoothies. We tend to use frozen fruit instead of ice!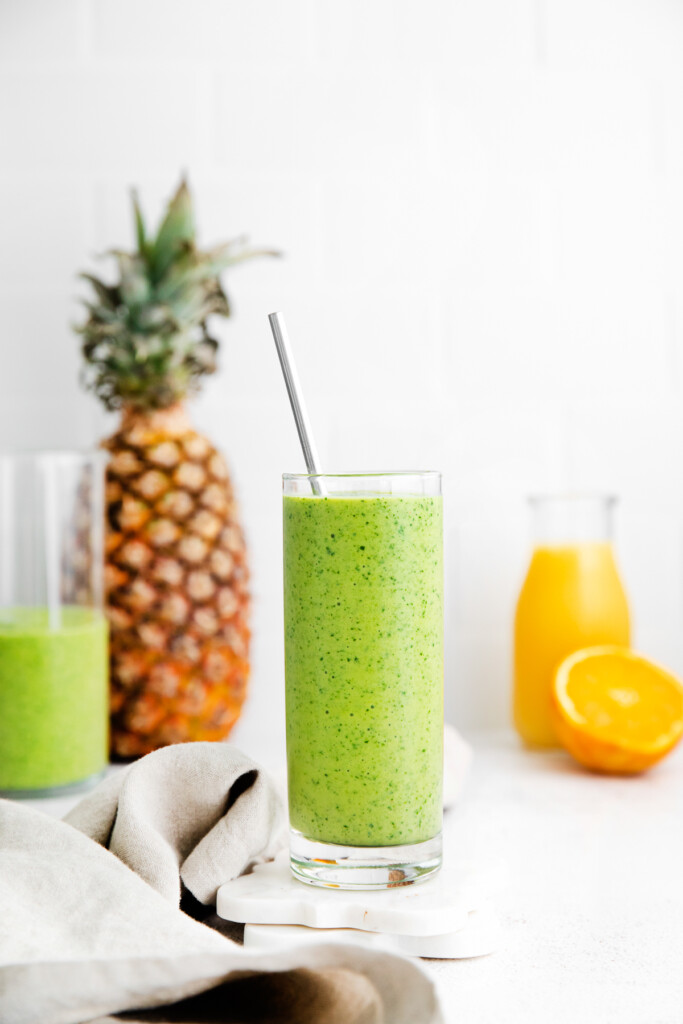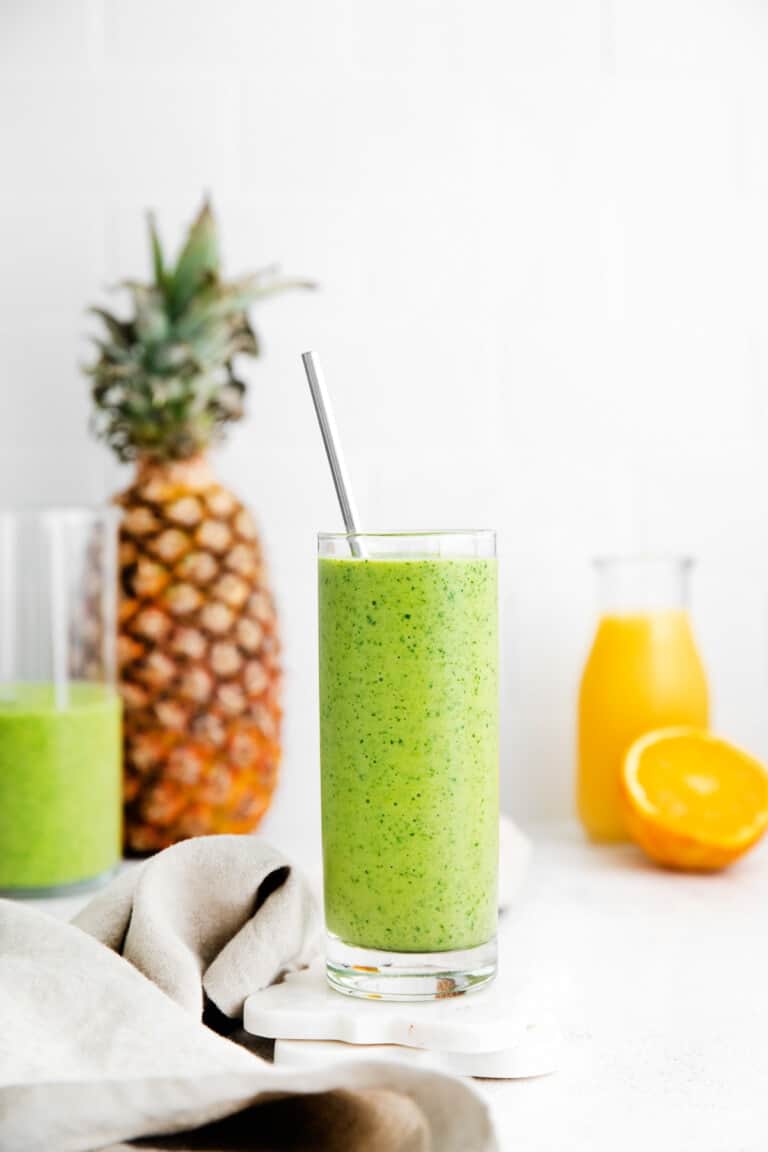 Storage
If you don't mind that your smoothie isn't very very cold, you can leave a smoothie in the fridge over night. It tends to develop a green foam on top from the spinach, but give it a stir and drink it down!
You can also keep this smoothie in the refrigerator overnight and blend it up again with 1/2 cup of frozen tropical fruit to thicken it up.
To Freeze
You can freeze a smoothie in a covered glass jar or in ice cube trays.
If you use ice cube trays, just place the ice cubes in the blender with orange juice and blend until smooth.
If you freeze the smoothie in a glass, let it thaw and enjoy. Or, once thawed, pour the smoothie into the blender and blend with orange juice until smooth.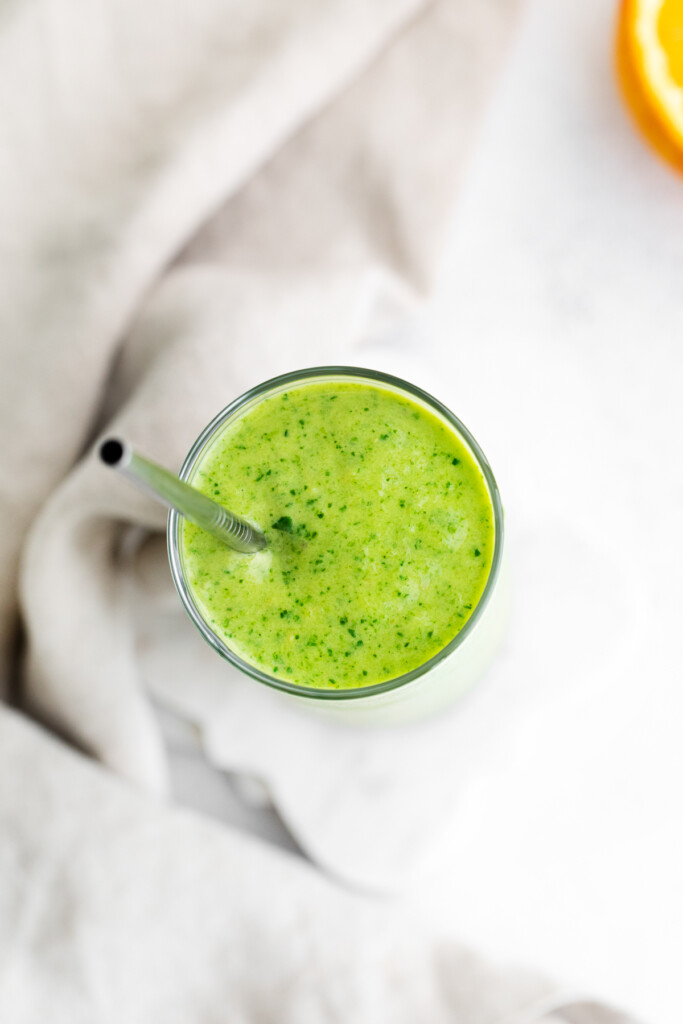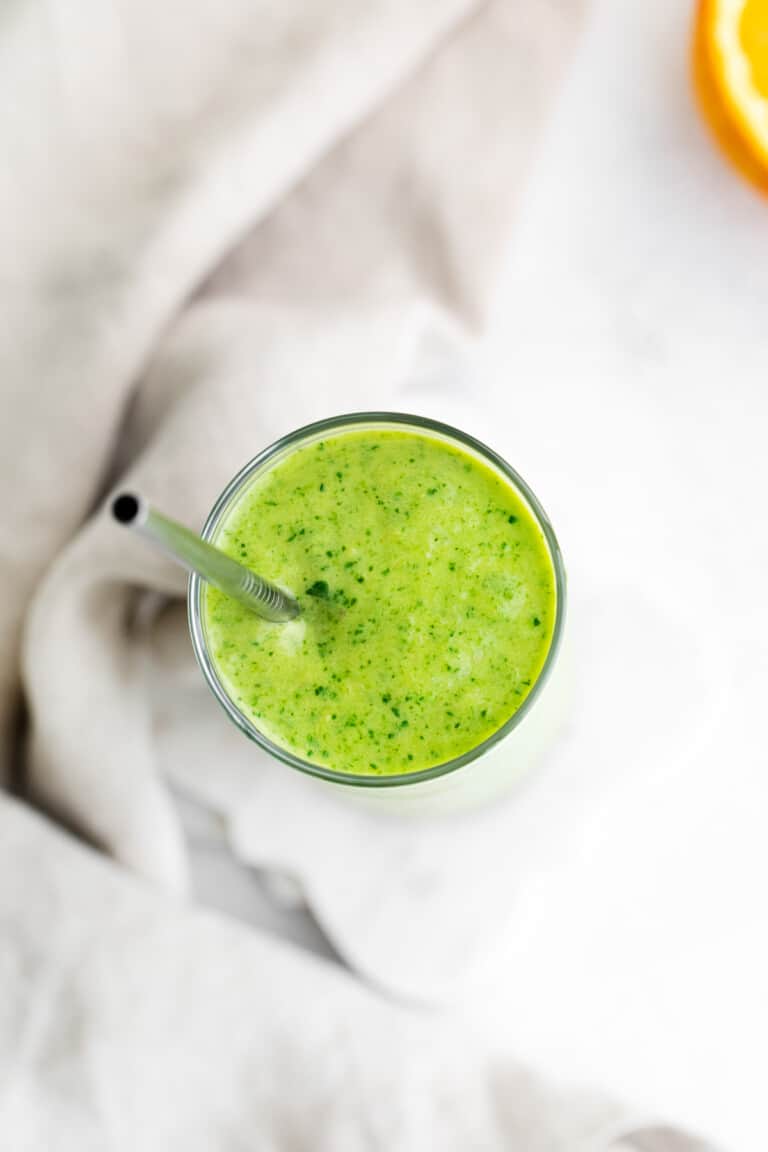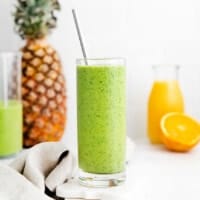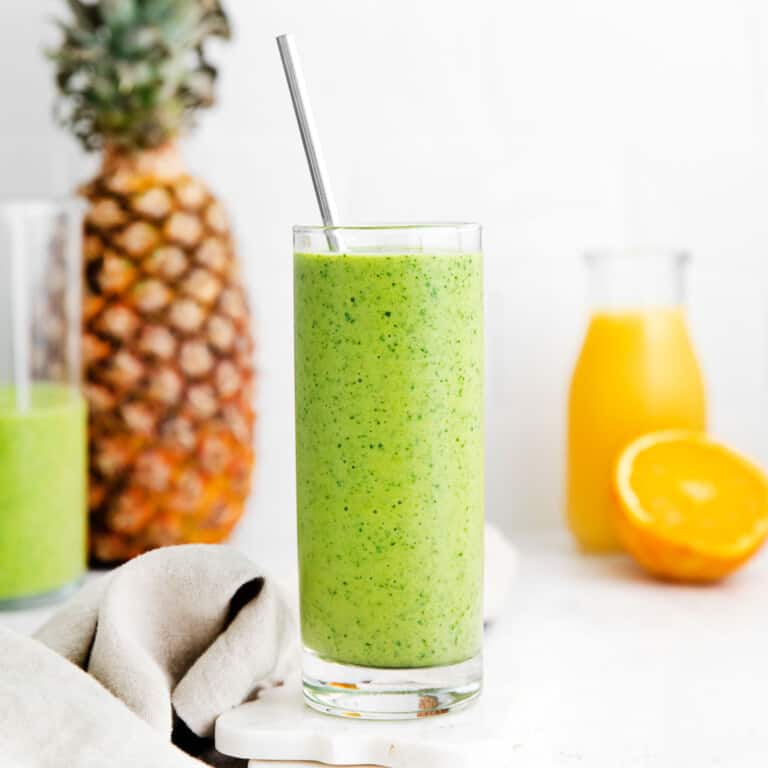 Tropical Spinach Smoothie
This tropical spinach smoothie recipe is refreshing and so flavorful! Add it to your morning routine, you won't be disappointed.
Prep: 5 minutesCook: 0 minutesTotal: 5 minutes
Fat 3
Carbs 34
Protein 8
Yield 2 1x
Ingredients
2 cups

tropical blend frozen fruit (ours had mango, pineapple, banana & peaches)

2 cups

fresh spinach, packed

1/2 cup

plain Greek yogurt

1 cup

orange juice
Instructions
Place all ingredients into a high-speed blender.

Blend on high until smooth. You may need to add a little more orange juice depending on how thick/thin you like your smoothies.
Nutrition Facts
Serving Size: 1/2
Calories: 198
Sugar: 26
Sodium: 49
Fat: 3
Carbohydrates: 34
Fiber: 3
Protein: 8
Category:
Smoothie
Method:
Blender
Cuisine:
American
Keywords: spinach smoothie