After nearly four full days of nonstop cooking, popular Nigerian chef Hilda Effiong Bassey, known on social media as Hilda Baci, is officially the world record holder for an individual's longest cooking marathon. Guinness World Records confirmed her status on Tuesday. 
Baci cooked for a total of 100 hours during the four-day marathon, but had to settle for a record time of 93 hours and 11 minutes because she "mistakenly took extra minutes for one of her rest breaks early on in the attempt," Guinness said. Even still, the 26-year-old chef cooked more than 100 pots of food, each big enough to serve 30 to 35 people, according to Baci. 
And she did it all following strict rules: only one 5-minute break was allowed every hour, she had to make sure she was cooking or preparing at least two items at a time, and she couldn't rely on her sous-chef to help with the actual cooking. 
The cooking fest, which took place from May 11-15, resulted in Baci smashing the previous record of 87 hours and 45 minutes, which had been held since 2019. 
She said the attempt was to "truly push my limits and test my abilities" as well as to help "inspire young African women to chase their dreams." 
And Baci was able to get it done by curating a 35-item menu for all the items she would prepare during the event, Guinness said. 
Watching her attempt – and succeed – became somewhat of a global spectacle. Guinness said that millions of people in Nigeria watched the cooking marathon through an Instagram live stream, and that even their website crashed under the weight of her popularity.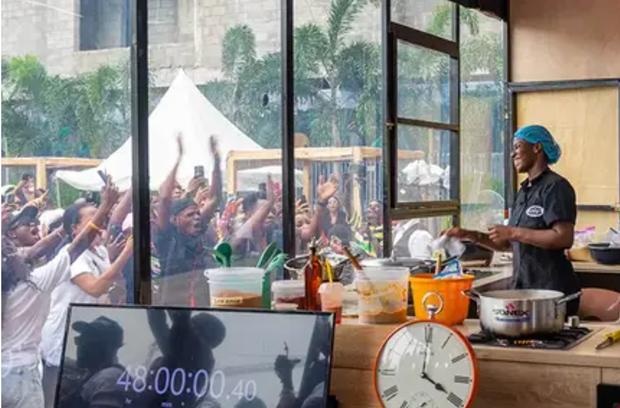 "Hilda's cook-a-thon was in fact so popular that our website crashed for two days due to the immense volume of traffic we received from her legion of loyal fans," Guinness said. 
That popularity was also seen in person, with Nigeria's Vice President, the governor of Lagos State and award-winning singer Tiwa Savage visiting Baci throughout her four-day stint. 
The massive amounts of food also went to good use, feeding members of the Nigerian public. Food that was leftover from the event was donated to the Festus Fajemilo Foundation, a non-profit that provides support to people in Nigeria who have spina bifida and hydrocephalus.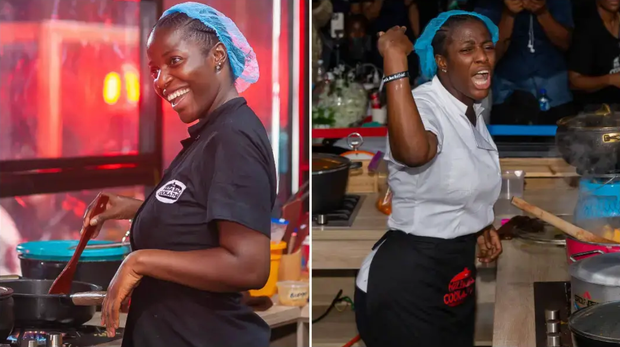 Days after she completed her cook-a-thon, Baci posted a video on Instagram sharing that she was struggling to sleep. 
"I'm still in awe. I think I'm still in shock," she said. "…I'm so happy and I'm so grateful to everyone. …I honestly cannot thank you people enough." 
Baci is the founder of the restaurant and delivery service "My Food by Hilda," and has had various televised cooking segments, including "Dine on a Budget" on Pop Central TV and "In My Kitchen" on Rave TV. 
But Baci's record title may not last long. 
The Voice of Nigeria reported that another Nigerian chef, Damilola Adeparusi, known as Chef Dammy, had her own cook-a-thon that lasted 120 hours. 
"We're coming for the Guinness world record," Chef Dammy tweeted on June 9. Guinness World Records has yet to verify her attempt. 
Thanks for reading CBS NEWS.
Create your free account or log in

for more features.