These mini apple crisps are a single-serve twist on classic apple crisps made in a muffin tin!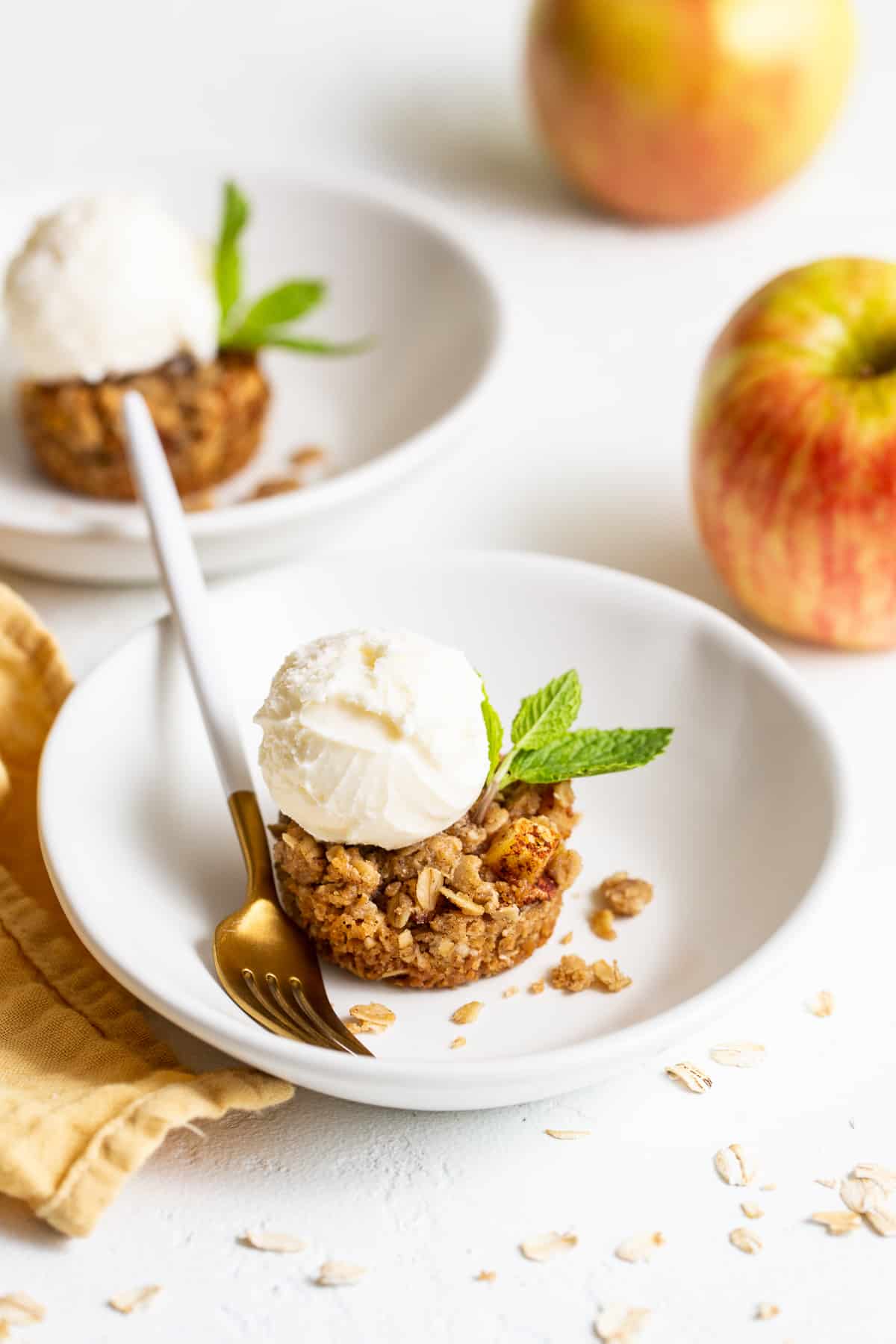 Our Favorite Mini Fall Dessert!
Our favorite fall mini dessert starts with an incredible crumble crust and is topped with a yummy apple filling and more crumble.
We love a good fruit crisp (insert: peach, blueberry, plum) and it doesn't get any more classic than an apple crisp. We love this recipe in particular because it takes a classic apple crisp, make turns it into single servings!
Served with a scoop of ice cream or fresh whipped cream, you're going to love this easy fall dessert.
Why you'll love it!
Single-serve
Easy to make
Kid-friendly
Seasonal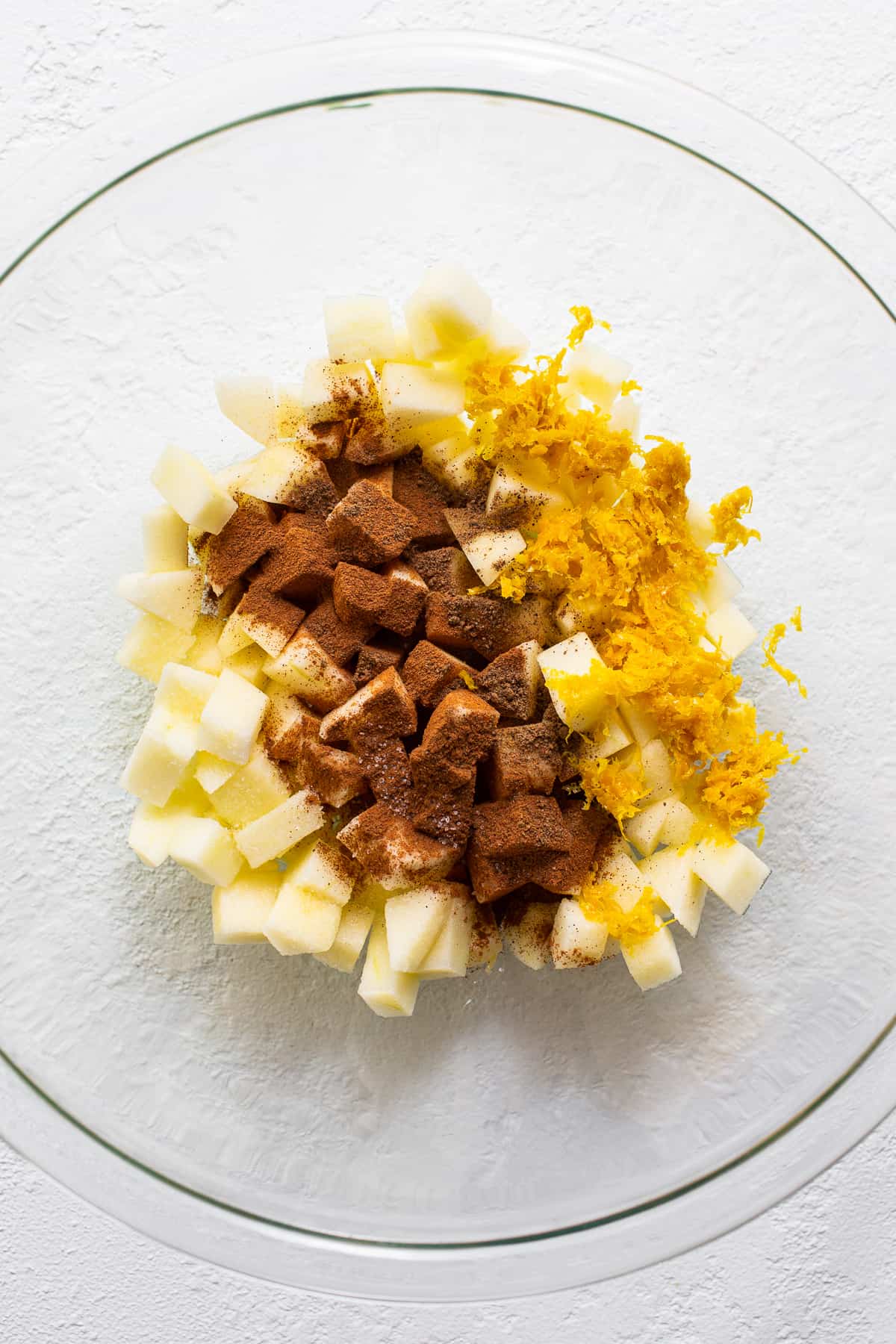 The Crisp Topping
Oats: oats are the basis of this crisp topping. Both old-fashioned and quick-cooking will work.
Flour: a little bit of flour helps make it a true crumble topping.
Brown sugar: we're using light brown sugar for the sweetener.
Cinnamon: a pinch of cinnamon is so delicious and necessary in a crisp topping.
Butter: we prefer to use butter in our crisp toppings because of the flavor. If you must you can use coconut oil.
The Apple Filling
Apples: we love using Honey Crisp apples for apple crisp, but really any kind will work. Try using: Gala, Red Delicious, or Granny Smith.
Orange juice/zest: a little bit of citrus really marries the apple flavor with the cinnamon and nutmeg!
Cinnamon, nutmeg, and salt: make sure not to forget the spices because these are truly the cherry on top.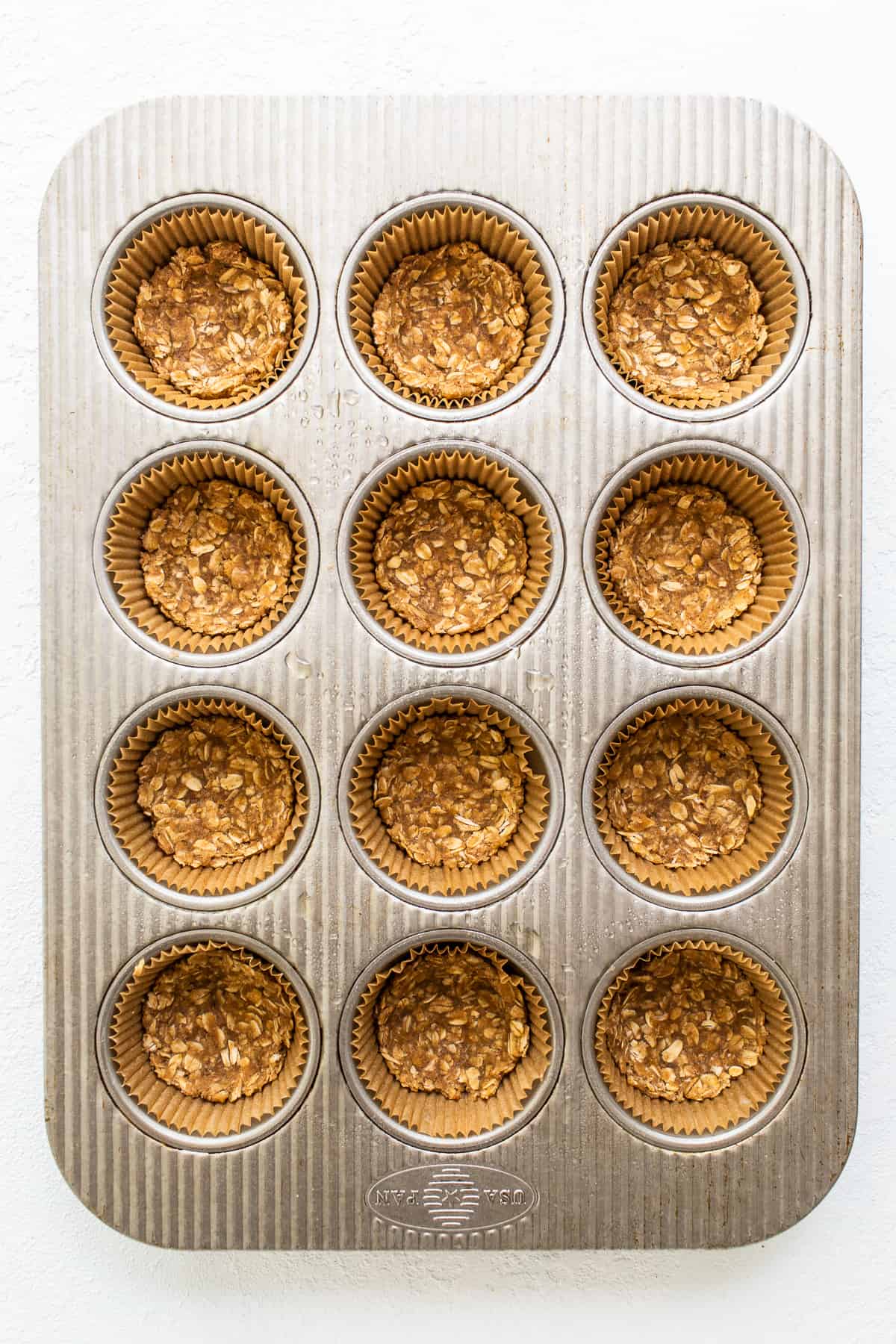 Simple Instructions
Make the filling: combine apple, orange juice orange zest, spices, and salt. Mix to combine.
Make crisp topping: combine rolled oats, flour, sugar, cinnamon, and salt. Then add the butter and cut it into the dry ingredients to form the crumble.
Bake crust: add 2 tablespoons of the crumble mixture to a lined muffin tin and press it down to form the crust. Bake at 350ºF for 10 minutes.
Prep mini apple crisps: add 2 tablespoons of the filling on top of the crust and top with more crumble.
Bake: bake again at 350ºF for 20-25 minutes or until the apples are fork-tender.
Serve: serve with vanilla ice cream or fresh whipped cream.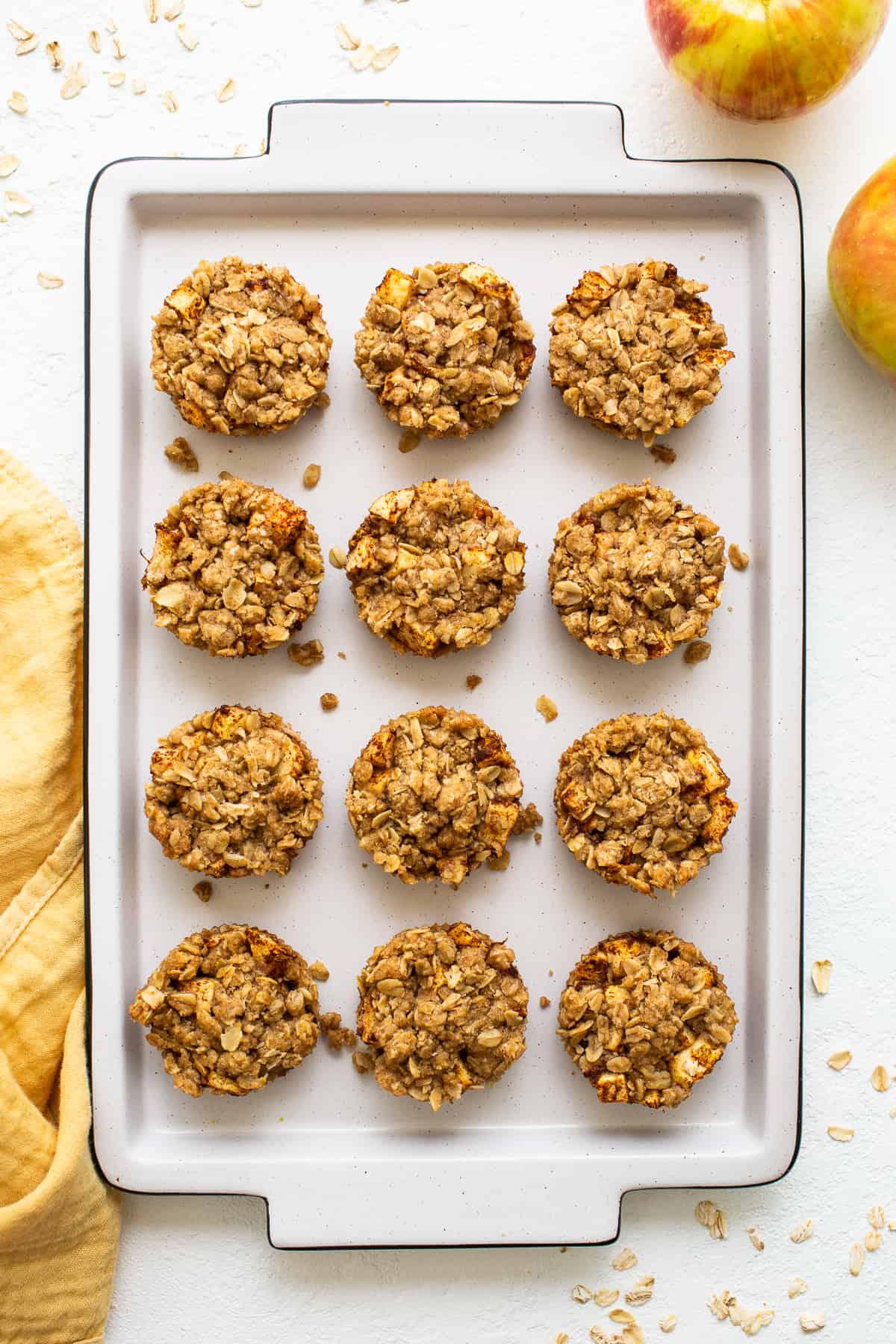 Storage
Store leftover mini apple crisps in an airtight container in the fridge for up to 3-5 days.
To reheat: reheat in the microwave on high for 60-seconds.
Try it!
I love eating one or two of these for breakfast. I top mine with peanut butter and more orange zest!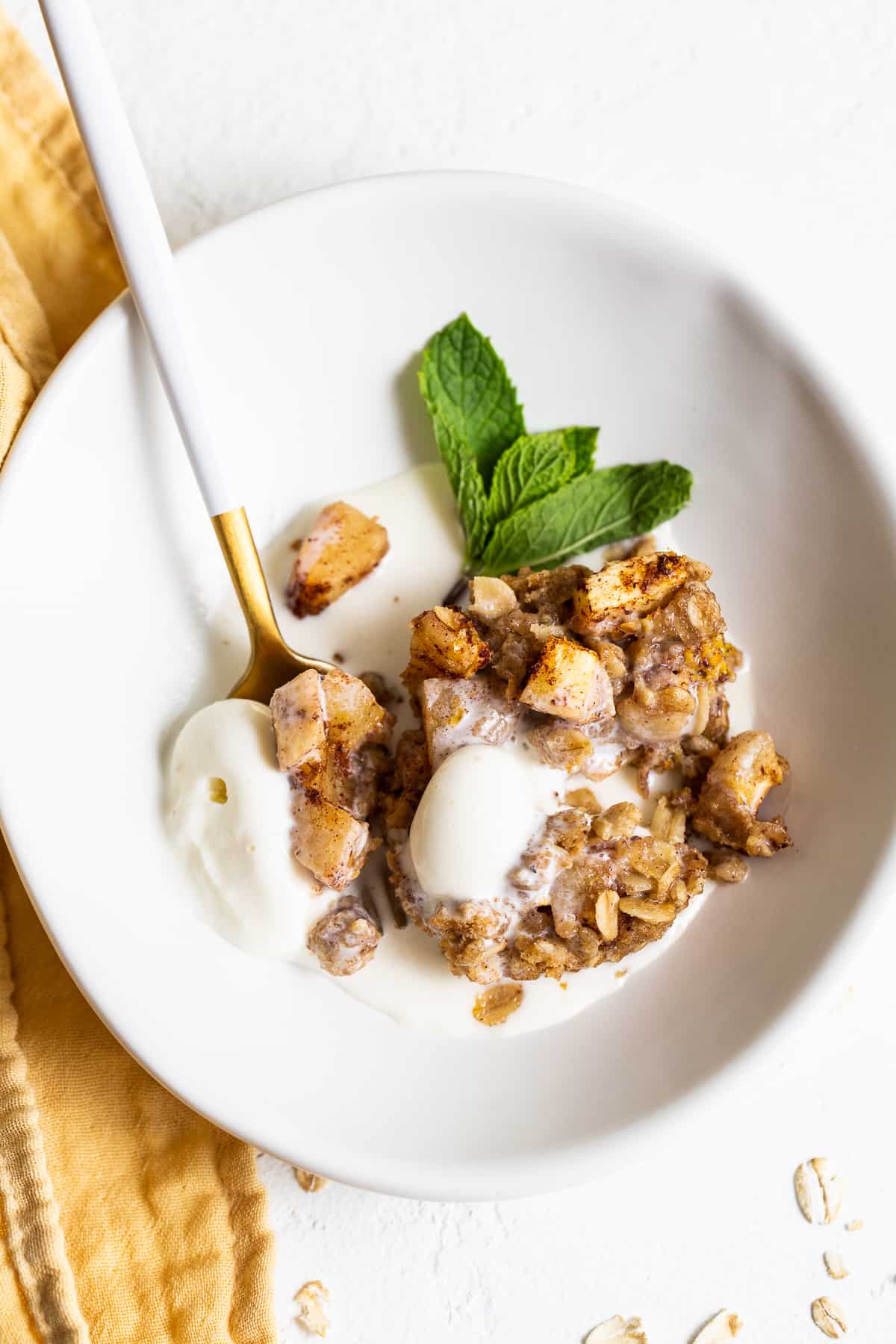 Ingredients
Apple Filling
2

cups

cubed honey crisp apples

peeled (½-inch cubes)

1

tablespoon

orange juice

1

tablespoon

orange zest

1

teaspoon

ground cinnamon

¼

teaspoon

ground nutmeg

½

teaspoon

coarse salt
Instructions 
First, preheat the oven to 350ºF and line a muffin tin with paper muffin cups and then spray the paper cups with non-stick cooking spray.

Add the apple cubes, orange juice, orange zest, cinnamon, nutmeg, and salt to a bowl and toss until the apples are coated in the juice and spices. Set aside.

In a separate large bowl, mix together crumble topping. Place rolled oats, flour, brown sugar, cinnamon, and salt. Then, add in a stick of softened butter and use a fork (or your hands) to cut the butter into the dry ingredients until it forms little crumbles.

Add 2 tablespoons of the crumble mixture to each muffin cup and use the back of a tablespoon to press the crumble into the bottom of the muffin cup to create a well with the crumble. Once each muffin tin has a crumble well, place the muffin tin into the oven and bake for 10 minutes.

Remove the muffin tin from the oven and let the crumble crust cool for 10 minutes.

Next, scoop 1.5-2 tablespoons of the diced apples into each crust well and then cover the diced apples with 1-2 tablespoons of the remaining crumble. Try to pour the crumble over the top and sides of the apples gently pressing the crumble into the apples and connecting the crumble with the bottom crust.

Place the muffin tin back into the oven and bake for 20-25 minutes or until the top of each mini apple crisp is golden brown.

Remove the muffin tin from the oven and let the apple crisps rest for 10-15 minutes.

Serve warm with ice cream or whipped cream or enjoy cold throughout the week.
Tips & Notes
When adding the diced apples and crumble to the crust, be sure that you press the crumble into the crust. This step is important if you want to have mini apple crisps that don't fall apart.
We suggest refrigerating these mini apple crisps after baking to keep them firm.
Feel free to use a gala apple or fuji apple.
Nutrition facts
Calories: 173kcal Carbohydrates: 23g Protein: 2g Fat: 8g Fiber: 2g Sugar: 11g
Photography: photos taken in this post are by Ashley McGlaughlin from The Edible Perspective.