This pumpkin pancakes recipe screams fall flavors! They're made with whole grains, pumpkin puree, maple syrup, and pumpkin pie spice.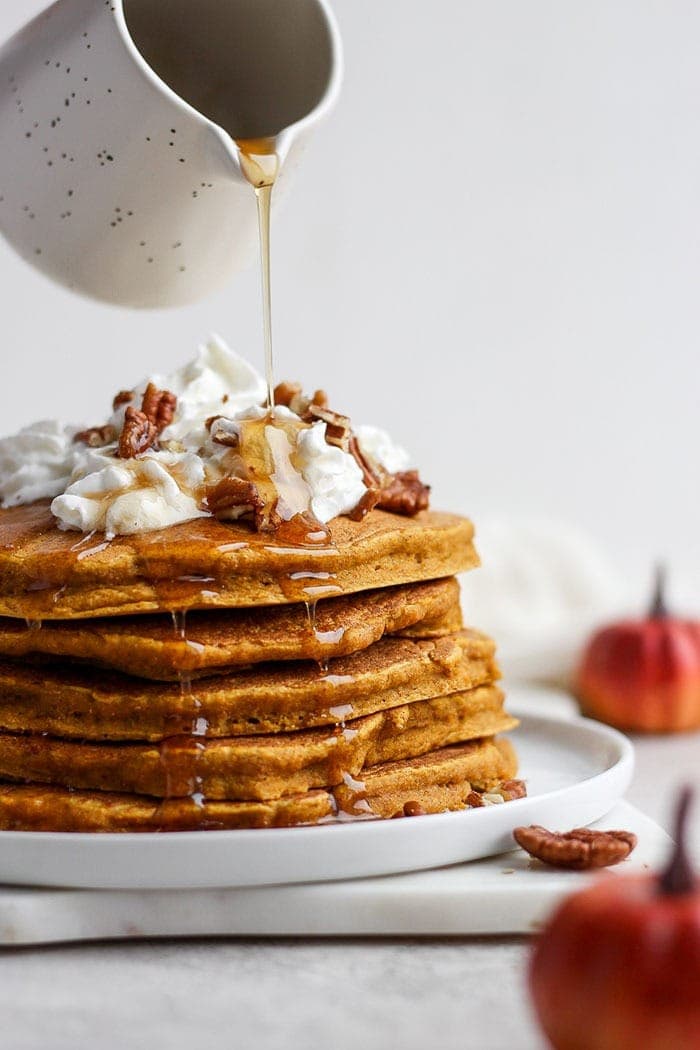 Favorite Pumpkin Pancake Recipe!
There is nothing better than waking up on a Sunday morning and making a giant stack of fluffy pancakes. These pumpkin pancakes are the perfect fall pancake recipe and you are going to love them.
Made with white whole wheat flour and real pumpkin puree, these pumpkin pancakes are flavored with maple syrup and pumpkin pie spice to truly make them a fall dream.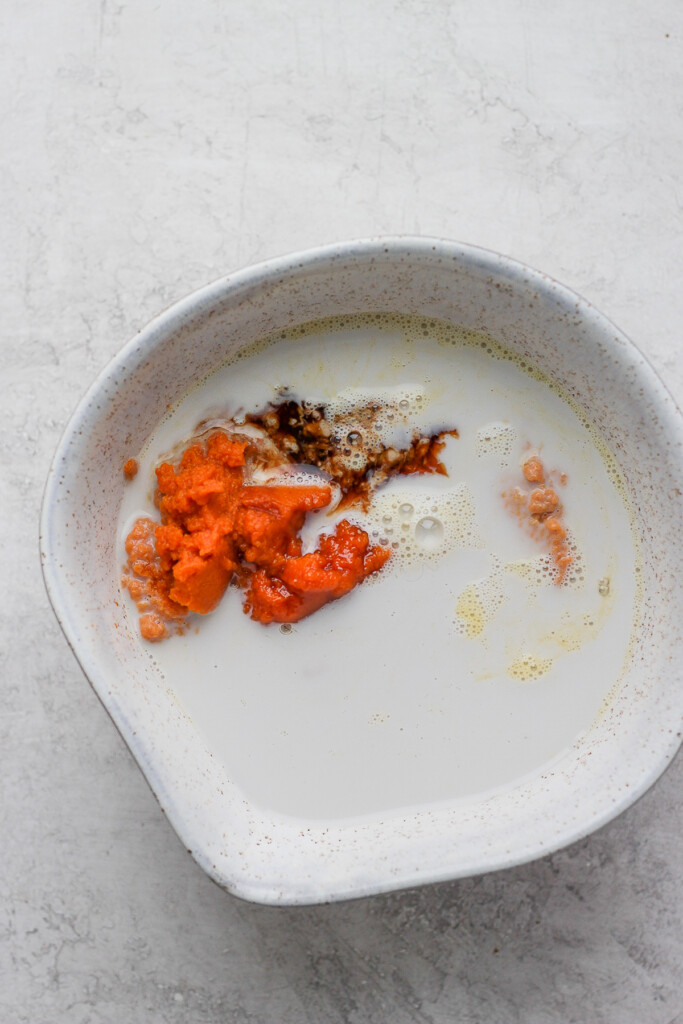 What You Need for Pumpkin Pancakes
White Whole Wheat Flour: this pumpkin pancakes recipe call for a 100% whole grain flour, which is hearty and better for you than enriched white flour. While whole wheat flour is a favorite to bake with because it's not as heavy as classic whole wheat flour.
Pumpkin Puree: Pumpkin is an excellent source of vitamin A and has a good amount of protein and fiber. PS: make sure to use unsweetened pumpkin puree instead of pumpkin pie filling (easy to mix up!)
Coconut Oil: this recipe calls for only 2 tablespoons of oil and coconut oil is such a great healthy fat addition to moisten up these pancakes even more!
Maple Syrup: instead of white sugar or brown sugar, we opted for our favorite all-natural sugar, maple syrup! A little bit of maple syrup goes a long way and bring out all the glorious flavors of the pumpkin pie spice!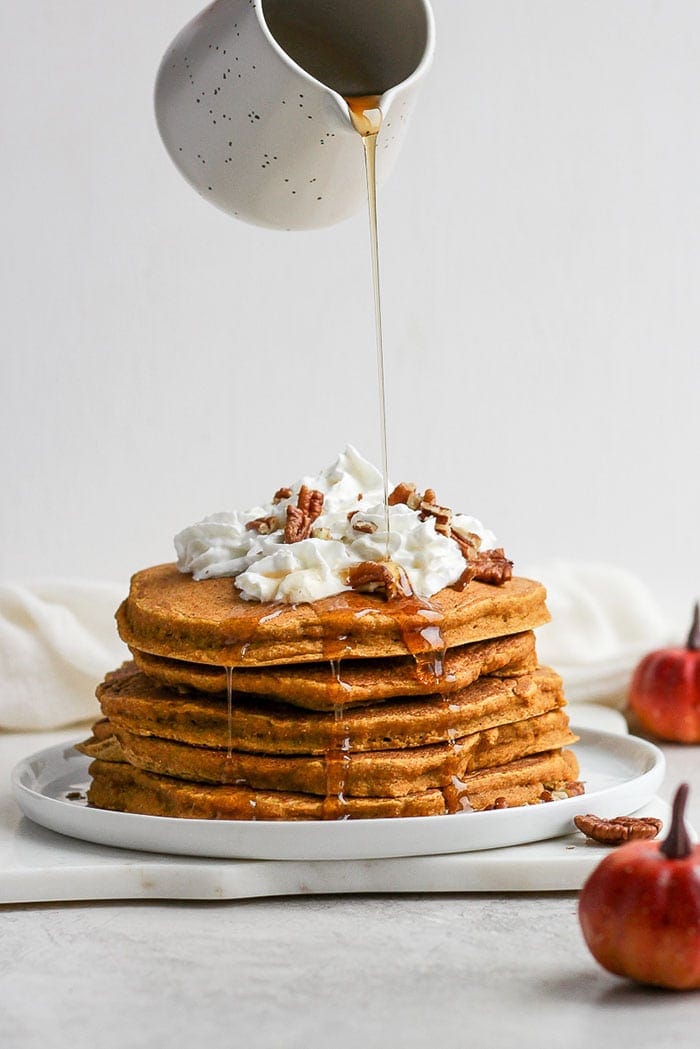 Ingredient Swaps
Flour: Try swapping the white whole wheat flour for normal whole wheat flour, oat flour, or gluten-free baking flour. We do NOT recommend swapping the flour for a nut flour such as coconut or almond.
Pumpkin Puree: Don't have pumpkin puree on hand? Try applesauce, butternut squash puree, or sweet potato puree!
Maple Syrup: Use another liquid sweetener such as honey or agave in place of the maple syrup.
Egg: While we haven't tested a vegan method, try swapping the 2 eggs out for 2 flax eggs.
Toppings
Don't forget about the toppings! No pancake is complete without its toppings. Here are our recommendations:
Coconut whipped cream
Cinnamon
Nuts: walnuts or pecans
Maple syrup
Nut Butter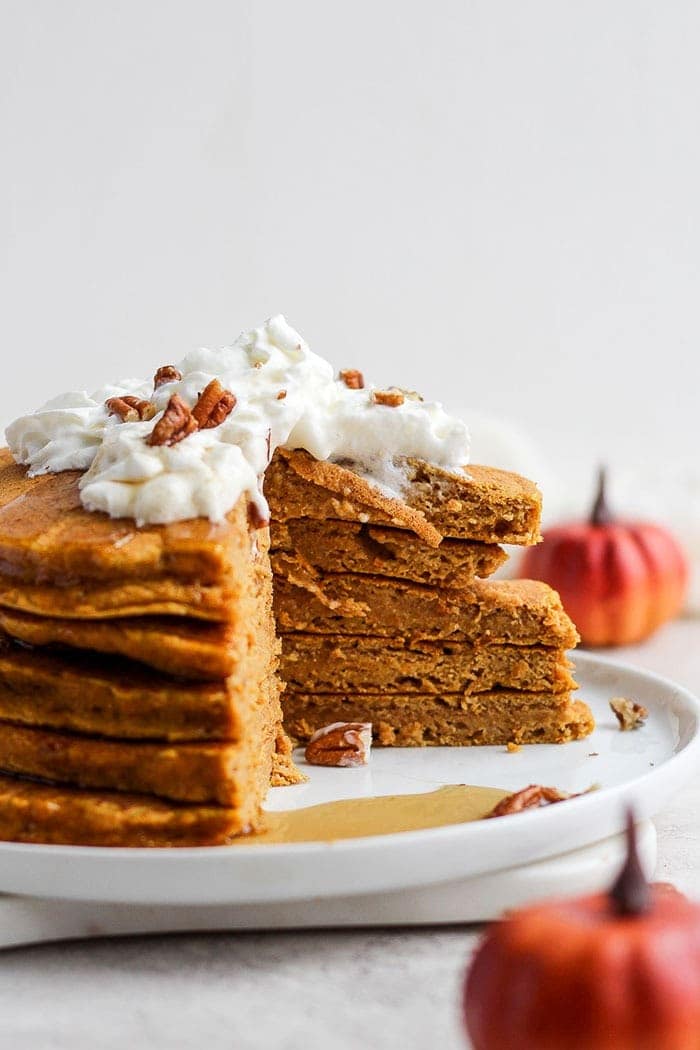 How to Freeze Pancakes
To freeze these pumpkin pancakes, let them cool completely. Then, stack two of them together and tightly wrap them with a piece of plastic wrap. Then wrap them again with a piece of tin foil.
Place them in the freezer for up to 3 months.
To thaw: remove them from the freezer and unwrap them. Then, let them thaw for 5 minutes on the freezer before pulling them apart. Defrost them in the microwave OR in your toaster.
Instructions 
Place dry ingredients into a large bowl and whisk to combine.

Then, in a separate bowl crack 2 eggs and whisk. Add almond milk, pumpkin puree, maple syrup, and vanilla and whisk.

Add dry ingredients into wet ingredients and mix making sure all ingredients are combined. Finally, add in 2 tablespoons melted coconut oil and mix again.

Next, heat a large skillet over low/medium heat. Spray skillet with non-stick cooking spray.

Using a 1/3 cup scoop, scoop pancake batter into the skillet. Let the pancake cook for 2-3 minutes on each side, flipping when bubbles start to form in the center of the pancake. when Repeat until all pancake batter is gone.

Top with your favorite toppings and enjoy!
Nutrition facts
Calories: 310kcal Carbohydrates: 41g Protein: 10g Fat: 11g Fiber: 6g Sugar: 9g
Photography: photos taken in this post are by Erin from The Wooden Skillet.