This month we're making a Fit Foodie reader fave! These zucchini oatmeal cookies are made with shredded zucchini, oatmeal, cashew butter, and chocolate chips.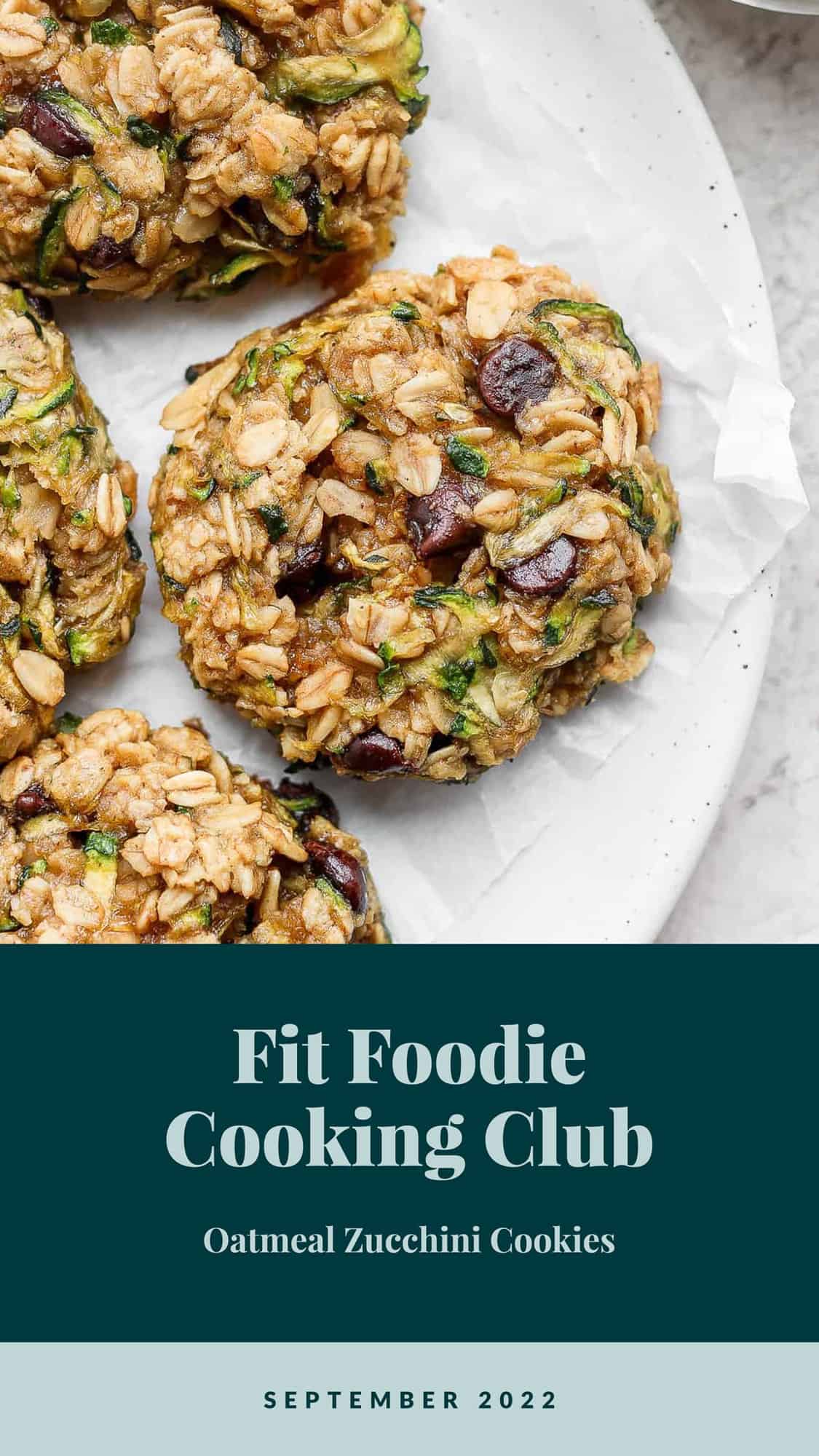 What is Fit Foodie Cooking Club?
The Fit Foodie Cooking Club is a monthly cooking challenge to get you in the kitchen cooking from scratch!
We thought there was no better way to bring our virtual community together than to all make the same recipe each month to celebrate real food.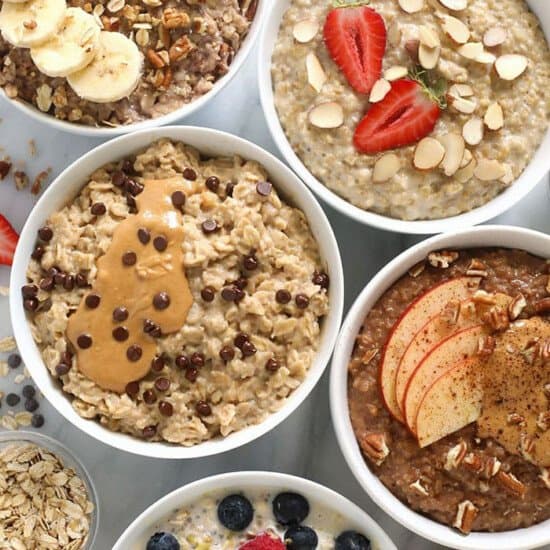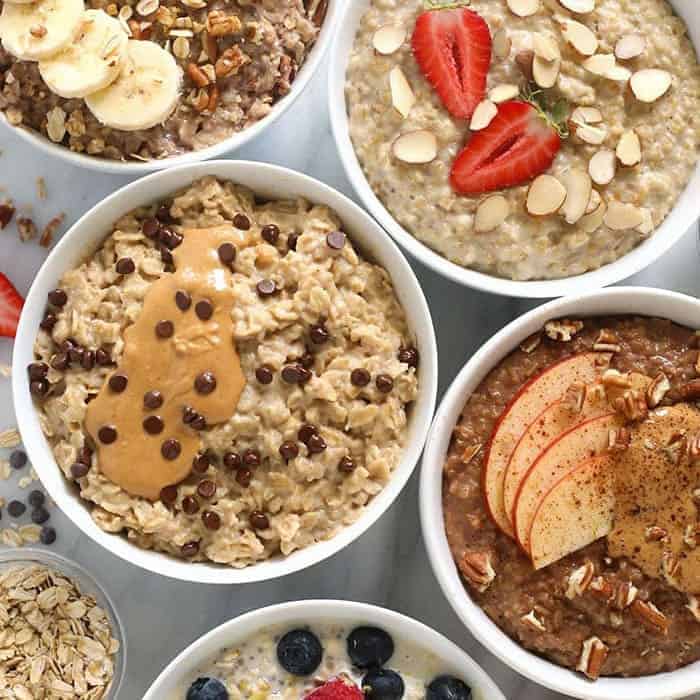 Join the Club!
Fit Foodie Cooking Club
Be the first to know about the recipe of the month + get other Fit Foodie Cooking Club announcements right to your inbox!
September 2022 – The Details
Read the below details VERY carefully as we want to make sure your entry counts! If you have questions, please leave them in the comments of this post.
Recipe of the Month
These oatmeal zucchini cookies are a Fit Foodie Finds reader FAVORITE. So many of you have made these amazing cookies time and time again over the years. We're so glad you love it as much as we do! And if you haven't tried it yet, you're in for a real treat 😀
why you'll love this recipe
They are chewy, soft, and delicious.
You can freeze them for later.
You get your veggies in and a sweet treat all at the same time.
Great for breakfast or dessert!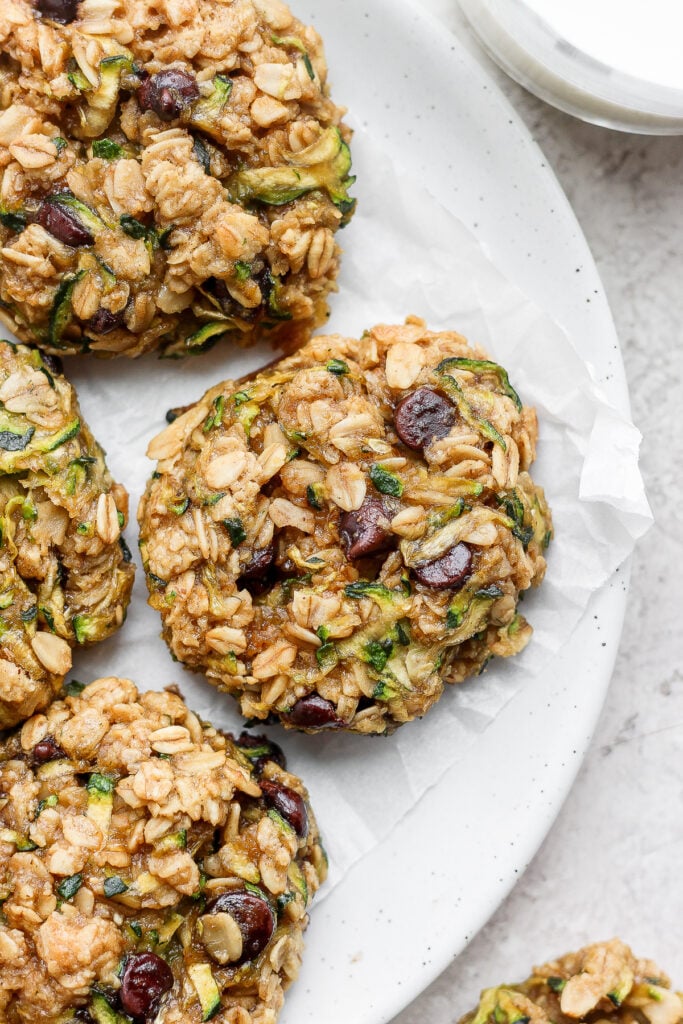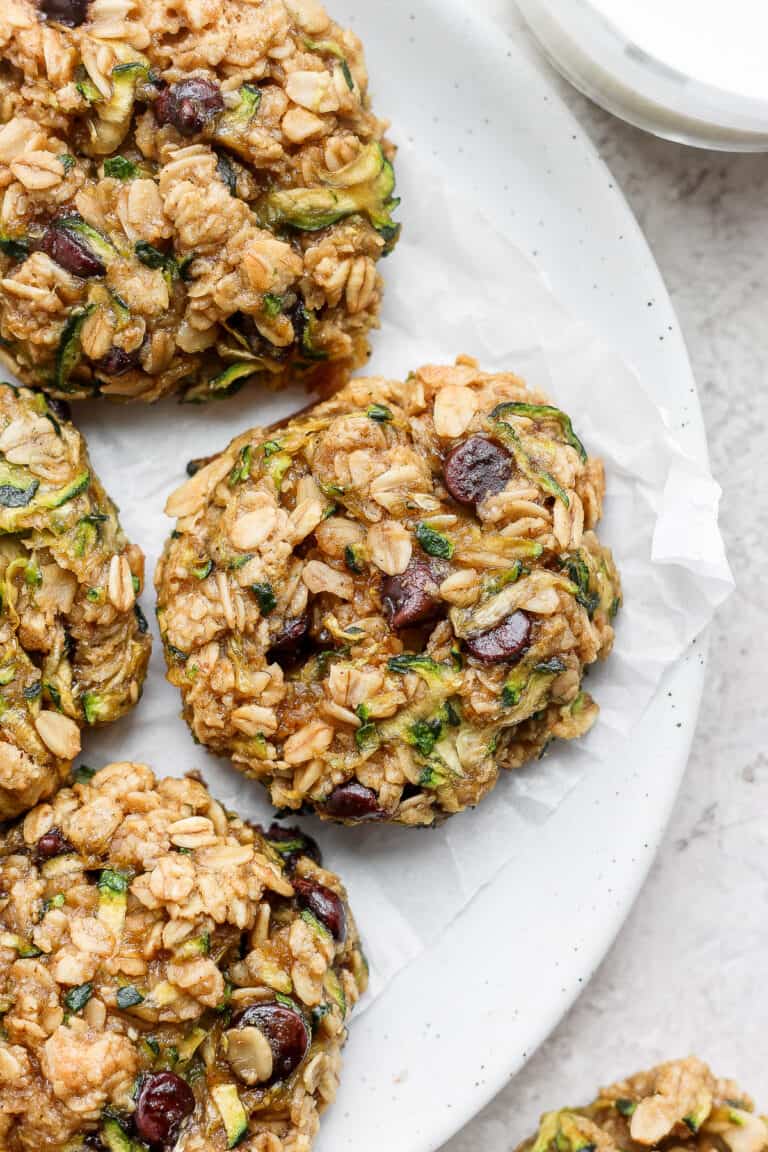 All About Oatmeal Zucchini Cookies
There is nothing we love more than a chewy zucchini cookie. These delicious oatmeal zucchini cookies are a delicious spin-off of our flourless monster cookies. Take out the M&Ms and add shredded zucchini and you've got a serving of vegetables.
You can make these zucchini cookies with shredded zucchini from your garden or with the zucchini you froze for later. We highly recommend making a double batch of these cookies to freeze some for later, too!
Ingredients You'll Need
Zucchini- two medium zucchinis turn out to be about 1 cup of shredded zucchini.
Unsalted butter– when baking we use unsalted butter.
Light brown sugar– we use a bit of brown sugar to sweeten up these oatmeal zucchini cookies.
Maple syrup– we love that adding maple syrup to cookies takes them up a notch!
Egg– use large eggs, not medium or jumbo.
Cashew butter– the secret deliciousness of these cookies comes from the drippy cashew butter. We love the Trader Joe or Good & Gather brand cashew butter. As long as it's drippy and not dry it works!
Vanilla extract– every cookie needs its vanilla extract.
Salt– the salt in these cookies enhances all of the flavors in these cookies.
Quick-cooking oats- we recommend using quick-cooking oats over rolled oats because they hold together better.
Baking soda– these cookies rise perfectly from a little bit of baking soda.
Semi sweet chocolate chips– oh baby, the combination of chocolate chips, cashew butter, and zucchini is so delicious!
Tools You'll Need
#1 Recipe Tip
Our #1 tip to make sure you have perfectly chewy, soft zucchini cookies is to properly remove the moisture from your shredded zucchini.
After you coarsely shred your zucchini, we recommend letting it sit in a lined bowl so that the moisture can draw out.
From there, you can use a tea towel to squeeze out as much moisture as possible. That way, your cookies don't turn out too mushy with too much liquid!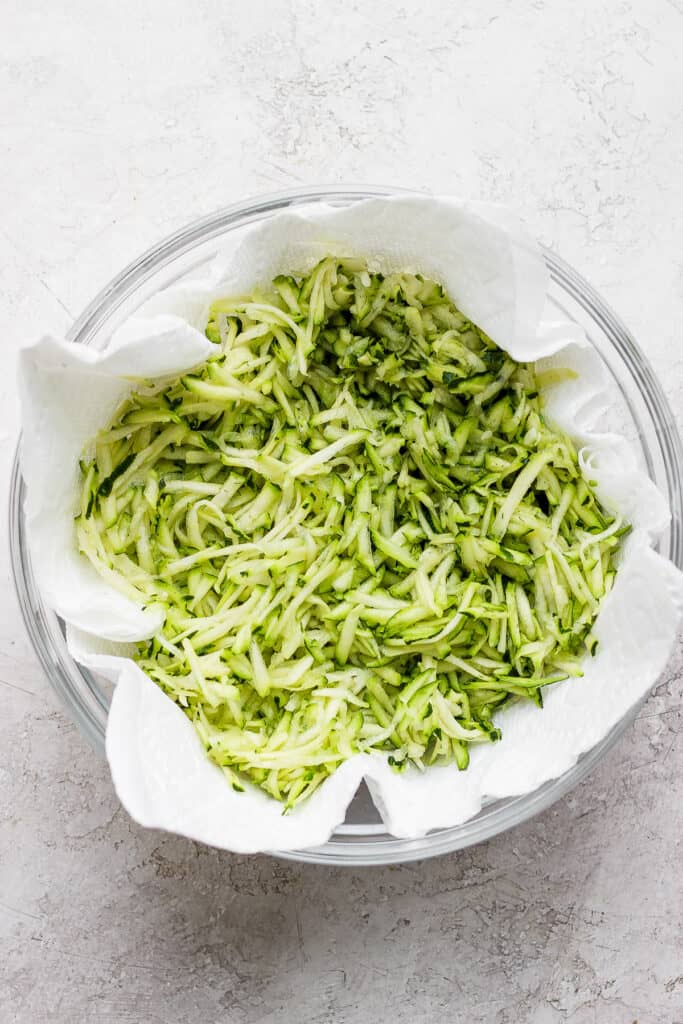 How to Enter
Now that you know how to make the recipe, it's time to submit your creation!
Go to the Oatmeal Zucchini Cookies blog post.
Make the recipe and snap a photo of it.
Leave a comment on the Oatmeal Zucchini Cookies blog post with a photo of your creation letting people know how it went. We'd love a star-rating, but it's not required. Make sure to leave your name and email in the comment form because this is how we'll contact the winners!
join the fit foodie cooking club on facebook!
Join in on the Fit Foodie Facebook fun and become a member of our FREE Facebook Group. The Fit Foodie Cooking Club group on Facebook is a way to share your cooking creations and make new like-minded friends online.
Important Dates
Sunday September 4, 2022 – the first day you are eligible to submit an entry.
Tuesday, September 27, 2022 – the last day to submit your photo and comment.
Wednesday, September 28, 2022 – the winners will be randomly selected and announced in this blog post and on social media.
The Prize
2 participants will each win a $100 Target gift card. The selection will be random and based on comments that are received between September 4 and September 27, 2022.
Winners will be announced on the last Wednesday of the month (September 28, 2022) via social media and blog post.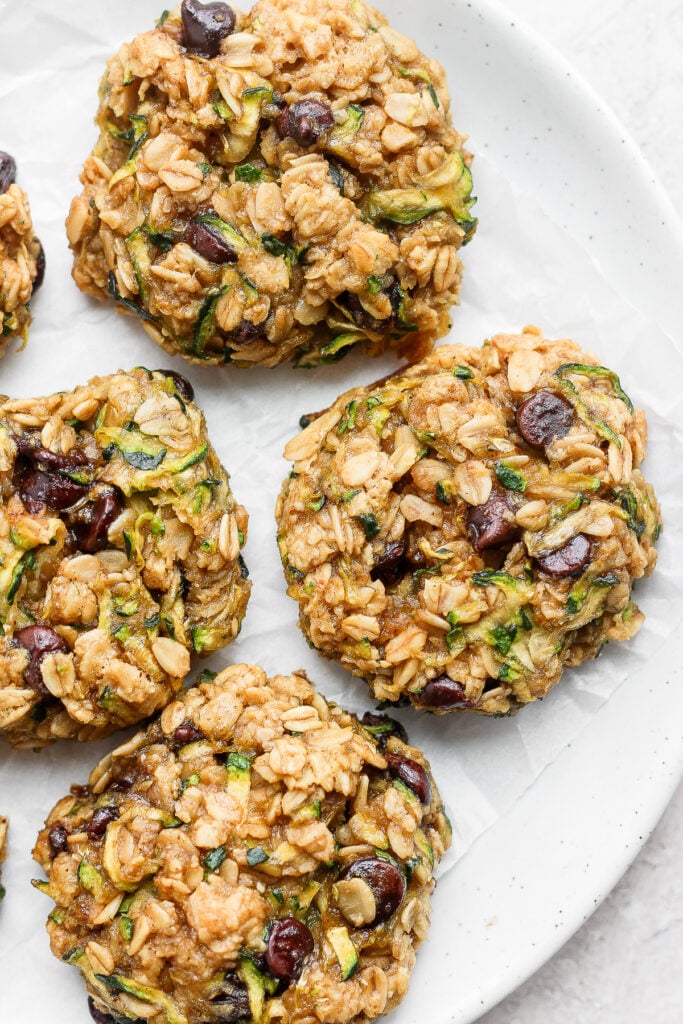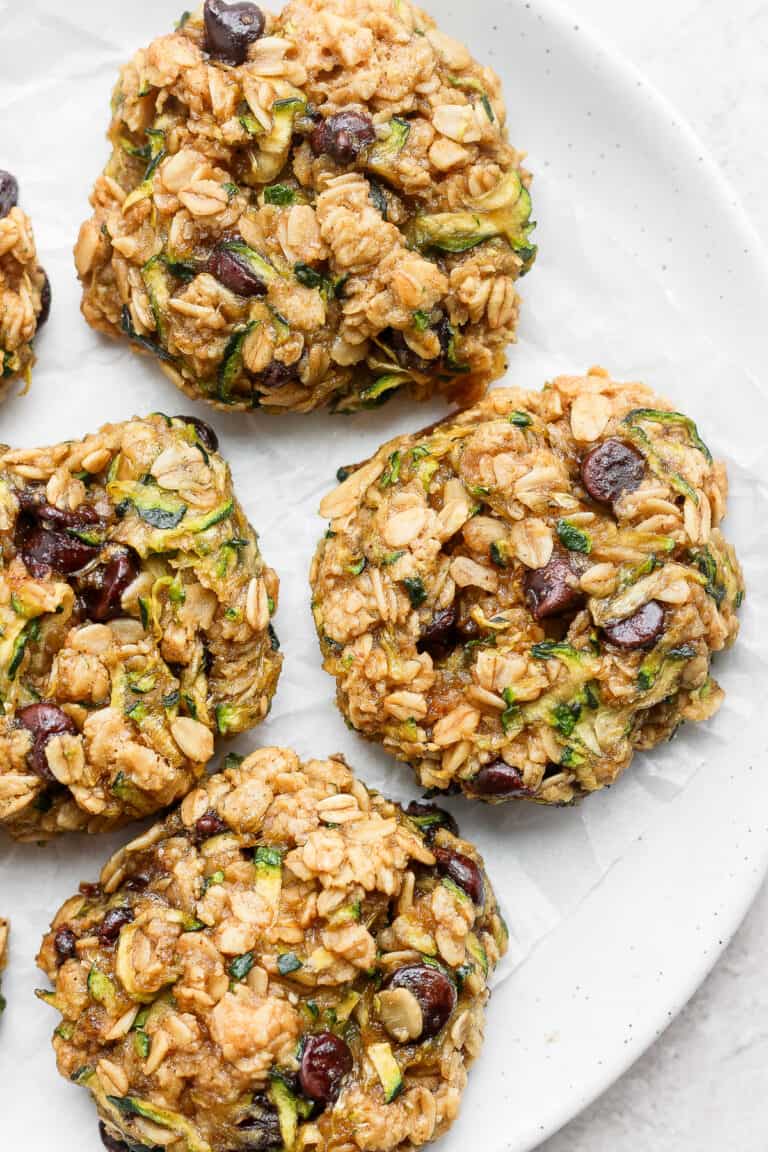 Charity of the Month
988 Suicide & Crisis Lifeline
Each month we'll select a different charity to support. September 2022's charity of the month is the 988 Suicide & Crisis Lifeline (formerly known as the National Suicide Prevention Lifeline). We'll be doubling the match from our giveaway winners to donate $400 to the 988 Suicide & Crisis Lifeline to aid in their efforts.
The 988 Suicide & Crisis Lifeline is a leader in suicide prevention and mental health crisis care. Since its inception, the Lifeline has engaged in a variety of initiatives to improve crisis services and advance suicide prevention for all, including innovative public messaging, best practices in mental health, and groundbreaking partnerships.
DONATE
We would love for you to support our monthly charity and donate what you can.
If you feel so inclined, donate to 988 Lifeline HERE.