Easy stuffed peppers are a weeknight classic! Stuffed with ground beef, corn, rice and beans, seasoned with tomato sauce and classic spices, and then topped with cheese.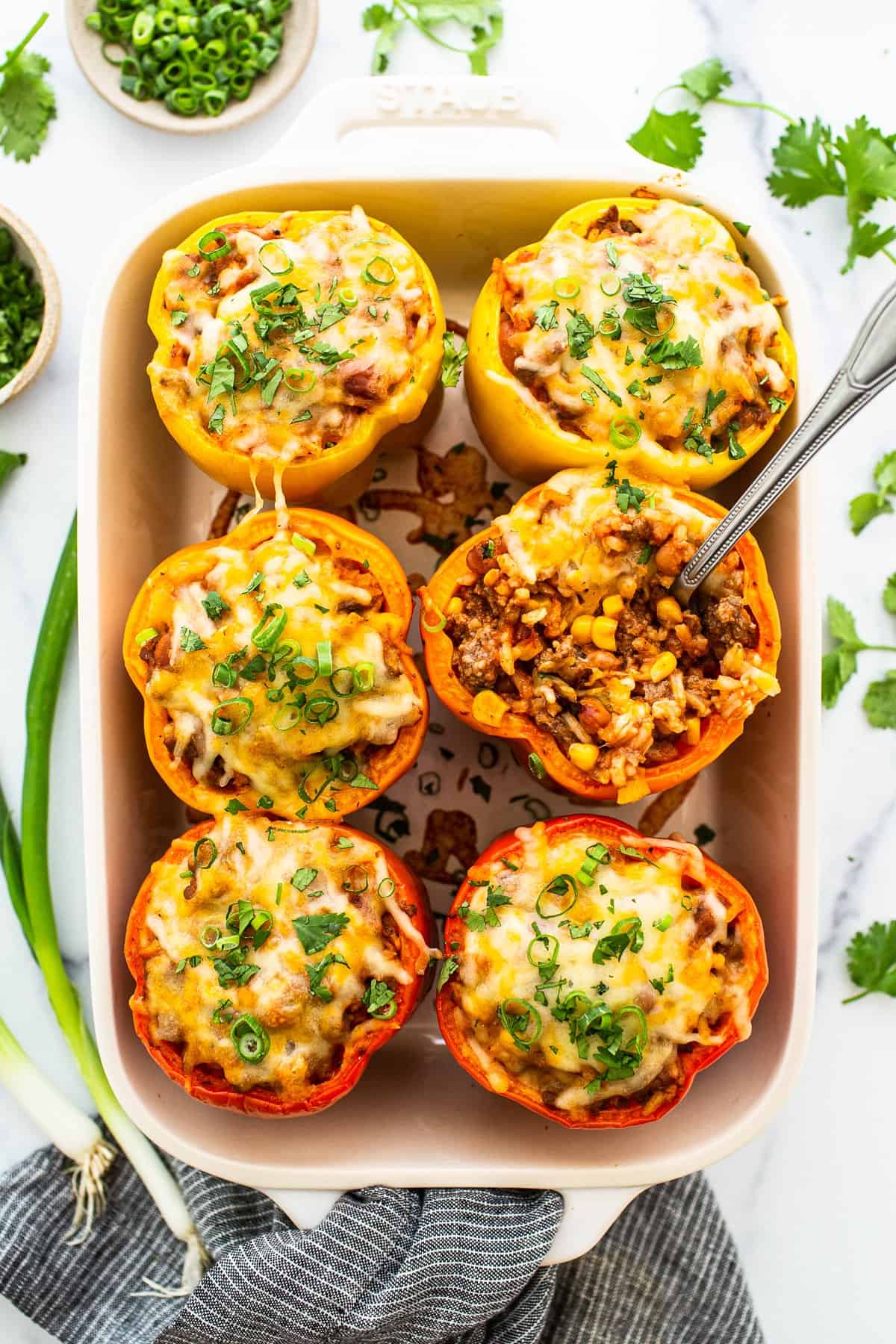 Our Go To Easy Stuffed Peppers
Why you'll love 'em!
More vegetables: We love that bell peppers are a vegetable. Even if you stuff them with all meat or all grains, you still get a solid serving of veggies!
Easy leftovers: Stuffed peppers are delicious when reheated, and you can pack them up and take them to school or work for lunch.
Great for freezing: Make a double batch and freeze your stuffed peppers for a quick dinner when you don't have anything to eat.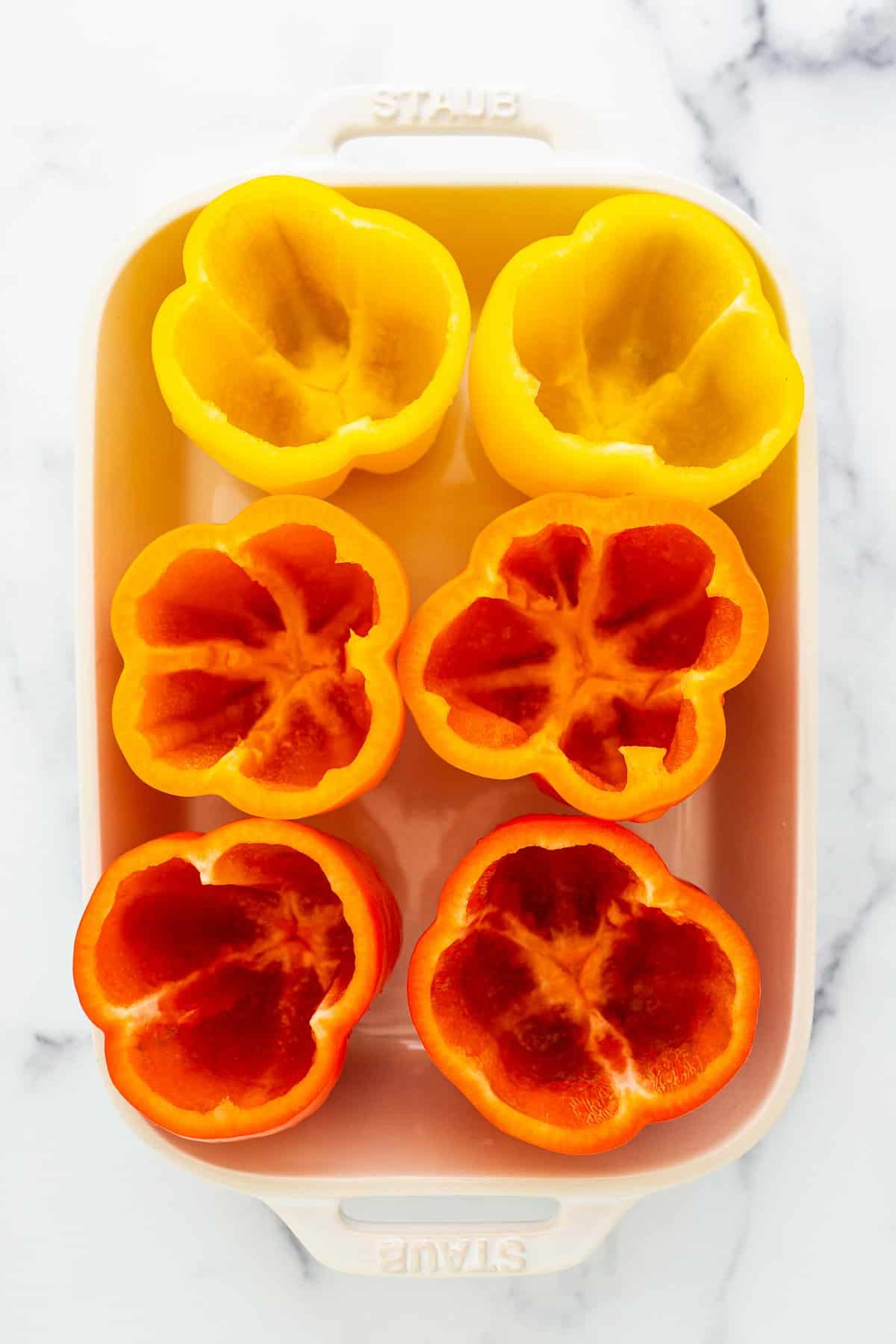 Ingredients for Stuffed Peppers
The ingredients for these easy stuffed peppers are — you guessed it, EASY! We're offering a few easy substitutions as well if you don't have something on hand.
6 large bell peppers: any color will work — we love using a few different colors for variety!
Uncooked long-grain white rice: you'll cook the rice while the empty bell peppers are cooking. Any variety of rice or quinoa will work.
Ground beef: we love the flavor of ground beef, but ground turkey, chicken or a plant-based ground will also do. 
Corn: we prefer fresh corn cut off the cob, but frozen corn will work.
White onion: we love the flavor of white onion, but yellow onion or red onion will also work.
Canned pinto beans: black beans, garbanzo beans or cannellini beans will also work if you don't have pinto beans on hand.
Tomato sauce 
Seasonings: paprika, dried oregano, ground cumin, salt and pepper 
Shredded Monterey jack cheese: Any Mexican blend of shredded cheese will also yield a similar taste! You'll top your stuffed peppers with this cheese 😀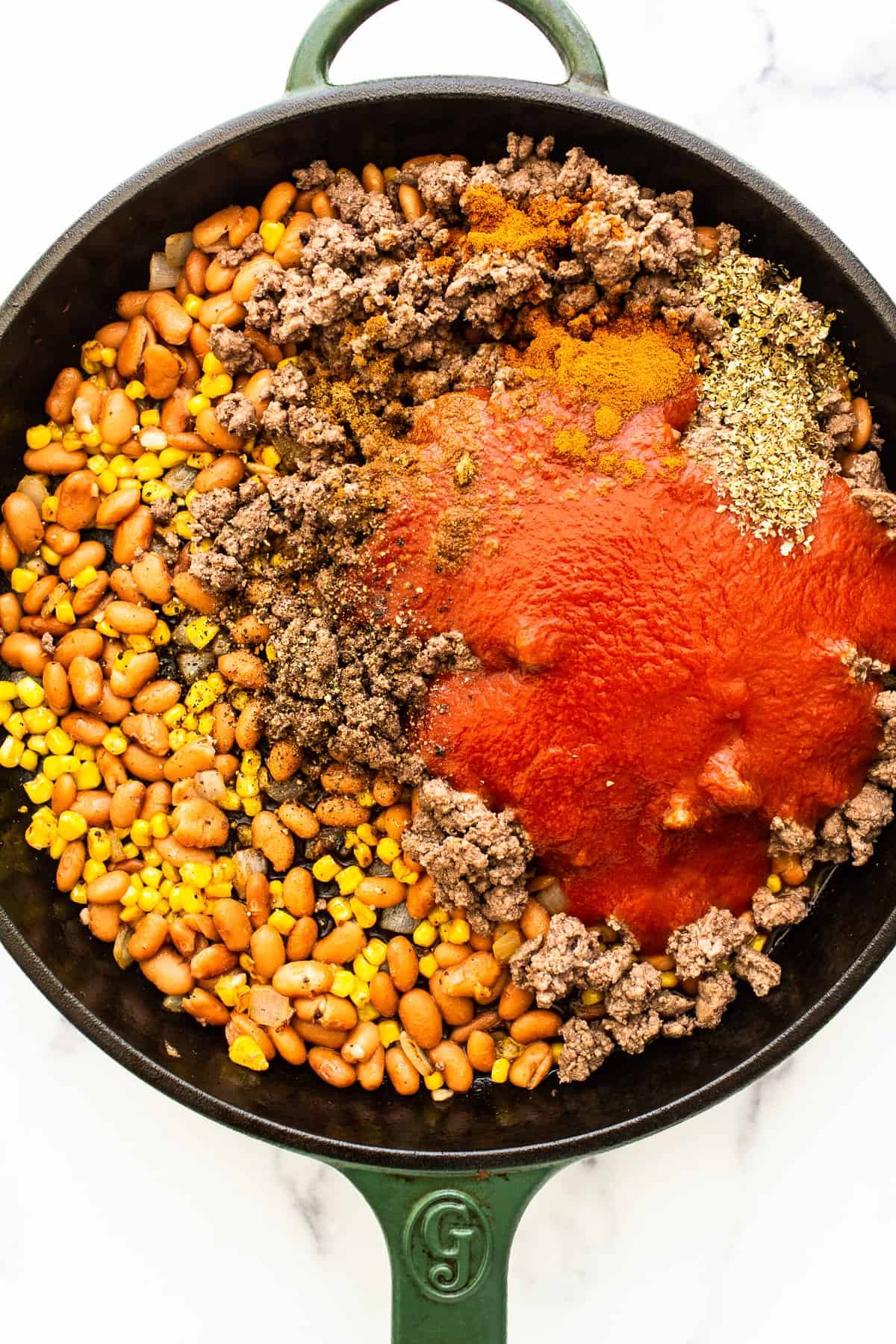 How to Make Stuffed Peppers
For the full recipe, scroll down to the recipe card for a list of ingredients and instructions.
Partially Cook Bell Peppers
Preheat the oven to 350ºF and place the bell peppers into any suitable baking dish where the bell peppers will stay standing straight up. Drizzle with oil, and season with salt. Bake the peppers for 10-15 minutes until they begin to soften but not turn mushy.
We like our peppers still a little crunchy, but if you're hoping for them to be more mushy, bake them for 20 minutes instead of 10-15.
Prepare Rice
Next, rinse rice with cold water and then add it to a small saucepan. Add 1 cup of water to the rice and bring to a boil over high heat. Turn heat to low and cover. Allow the rice to cook for 20-25 minutes or until the rice is done.
Cook Ground Beef
Heat a large cast iron skillet over medium/high heat and add beef to the skillet. Break the beef up into small pieces, and cook until it is almost fully cooked but still has some pink pieces. Remove the beef from the skillet with a slotted spoon and leave drippings in the skillet.
Saute Onions, Corn & Beans
Add the remaining avocado oil to the skillet and then add the onion to the skillet. Sauté for 1 minute and then add the corn. Sauté the corn until it browns and caramelizes, then add the beans to the corn and toss.
Mix Stuffed Pepper Filling
Next, add the tomato sauce, paprika, black pepper, oregano, and cumin to the corn. Mix the ingredients together and then add the ground beef and rice to the skillet. Mix again until all the ingredients are combined. 
Assemble Stuffed Peppers
Scoop about ½ – ¾ cup of the mixture into each hollowed out bell peppers. Top each pepper with shredded cheese. 
Bake Stuffed Peppers
Place the bell peppers back into the oven and bake for 15-20 minutes or until the cheese is melted and begins to brown. 
Enjoy!
Remove the peppers from the oven and garnish with fresh herbs. Enjoy!
Stuffed Peppers FAQs
Do peppers need to be cooked before stuffing?
We recommend partially cooking the bell peppers before stuffing them and finishing of baking them. This will yield great texture peppers that still maintain their shape but aren't mushy.
How long does it take to soften peppers in the oven?
We soften the bell peppers for this recipe for 10-15 minutes before stuffing and finishing in the oven. If you like your peppers more on the mushy side, we recommend softening for 20 minutes before stuffing.
Can you freeze stuffed peppers?
These stuffed peppers make for a great freezer meal! Cook them as the recipe states, and then let them cool completely before storing in an airtight container. Reheat in the oven at 350ºF in a covered casserole dish for 20-30 minutes.
What to Serve with Stuffed Peppers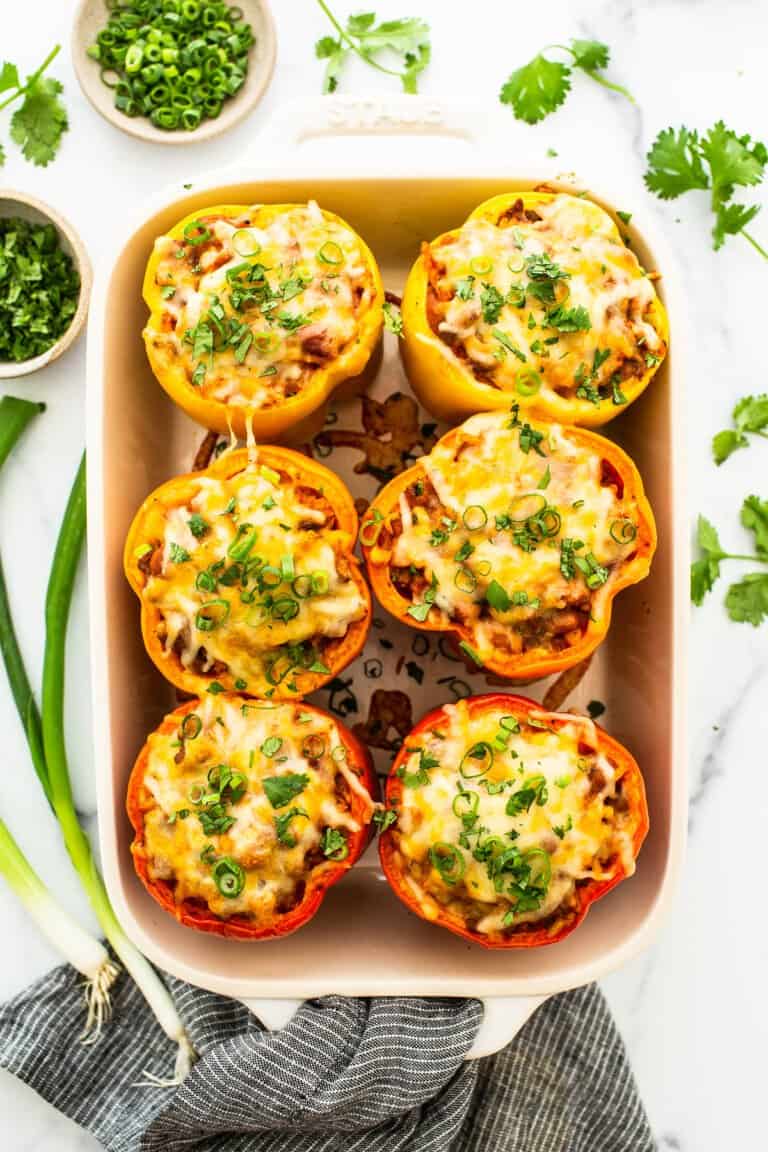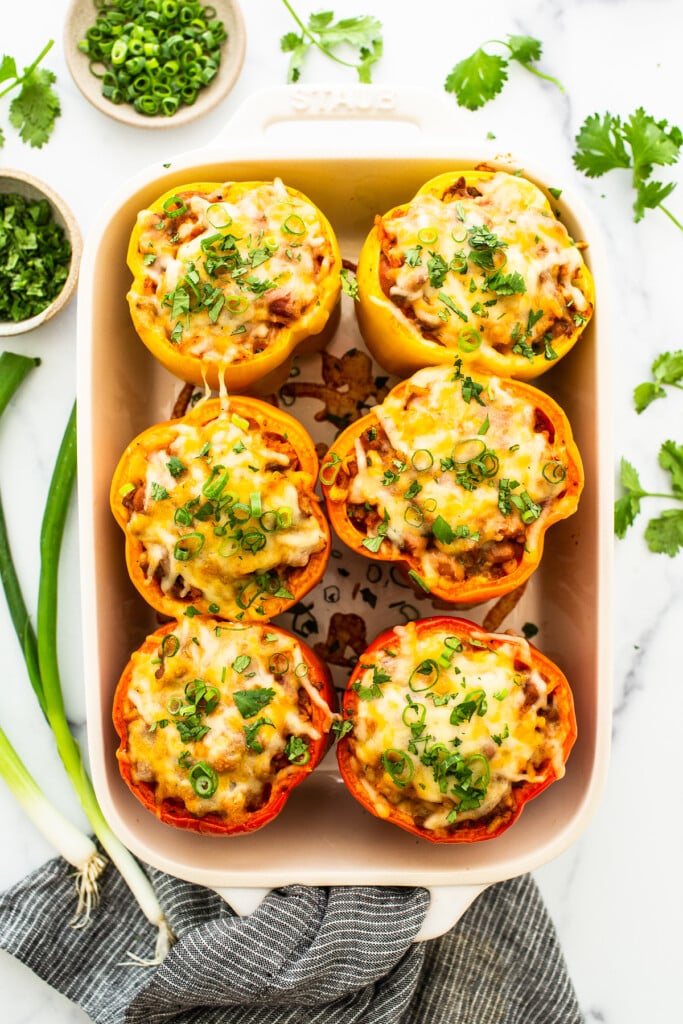 Storage
Store these stuffed peppers in the refrigerator for up to 5 days in an airtight container.
Freezer Instructions
These stuffed peppers make for a great freezer meal! We recommend baking these peppers and following the instructions in the recipe card. Then, let the stuffed peppers cool completely before placing in an airtight container and storing in the freezer for up to 3 months.
To reheat the peppers: preheat the oven to 350ºF and then place the peppers in a casserole dish and bake covered for 20-30 minutes.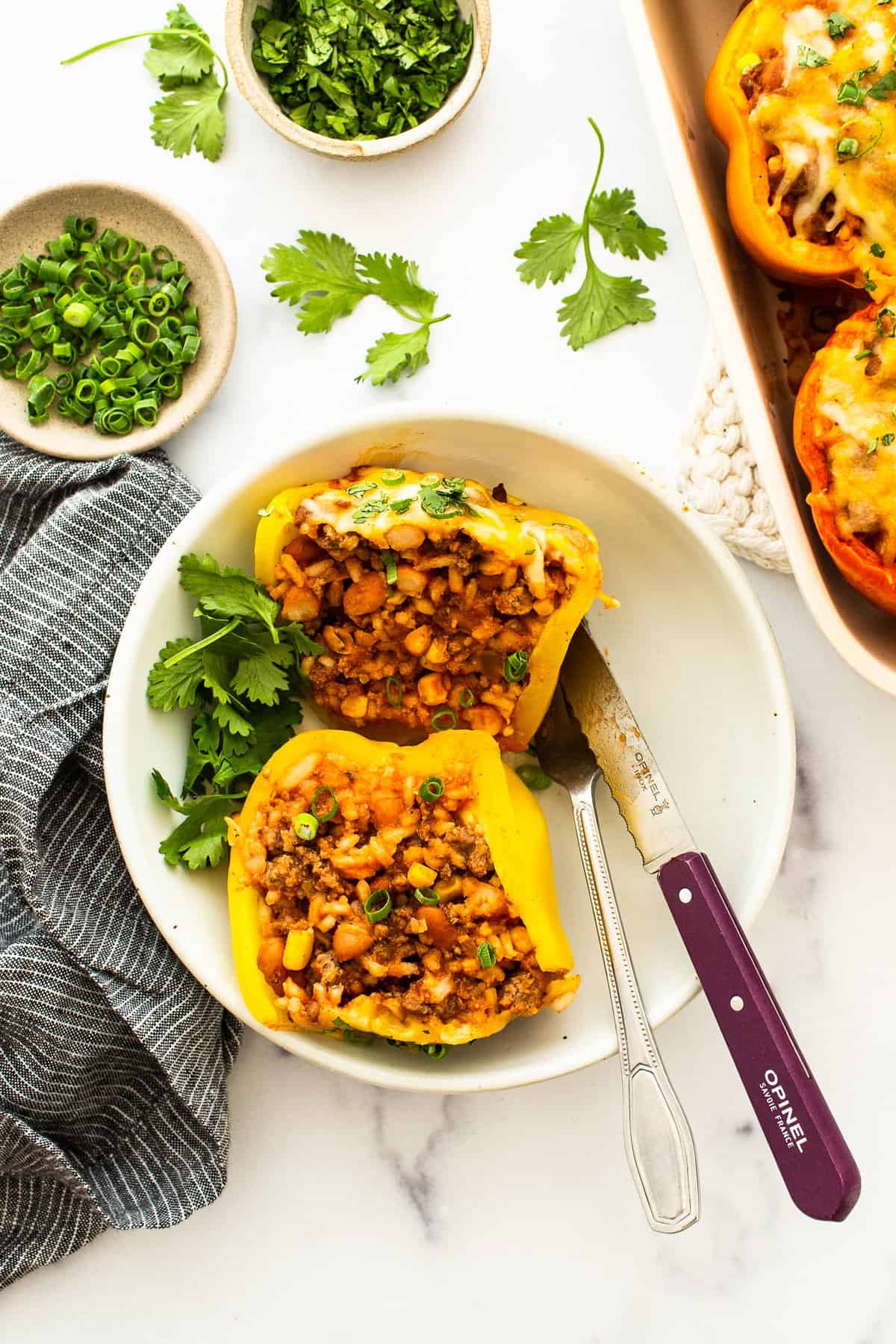 Photography: photos taken in this post are by Ashley McGlaughlin from The Edible Perspective.