Women always desire glowing skin. To maintain skin radiance, it is necessary to follow a beauty regime. Facial has crucial importance in this regime. Ideally, it is suggested to have a monthly facial.
But how often you should get a facial also depends on your skin, the condition of your skin, the weather where you live, your age, and moreover on your budget. The more skin issues you have, the more frequent treatment visits you need.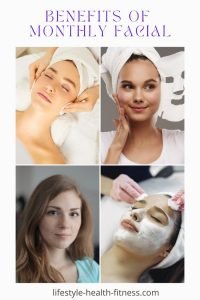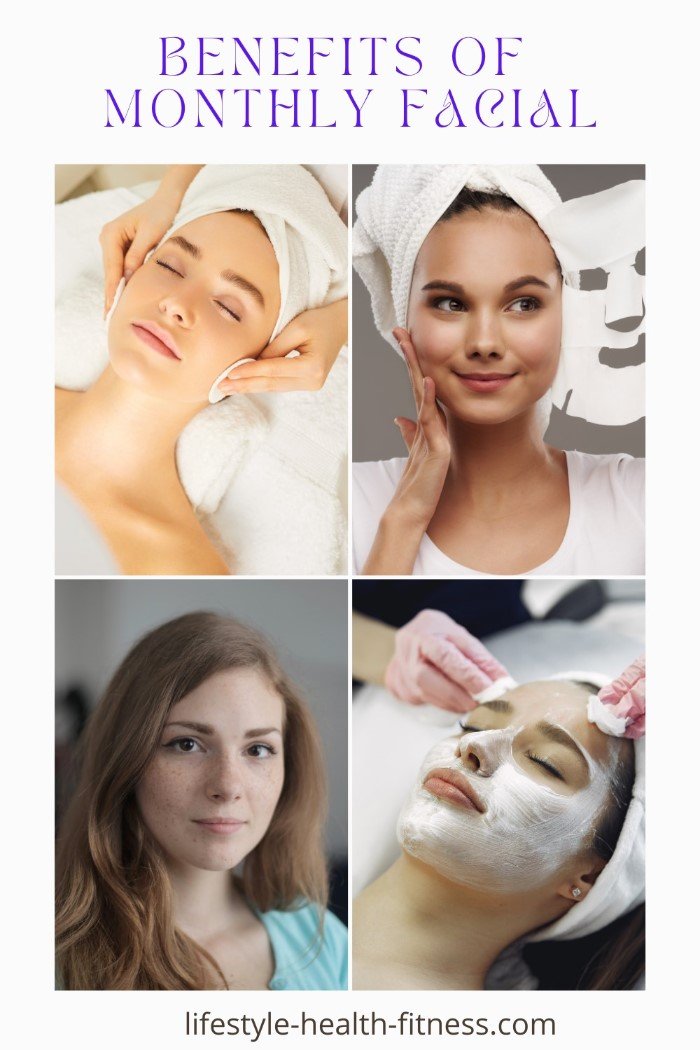 Monthly Facial Benefits for You and Your Skin
Many ignore the need for regular skincare until they get dry, breakouts, and unpleasant skin. However, the right approach is to take care of the skin on regular basis.
A monthly facial at a professional spa cleanses the skin from the inside and activates blood circulation and allows beauty products to work on the face. Check out more on this here-
Cleanses Deeply
With daily exposure to pollution and sunlight skin pores get filled with dirt and oil. Facial cleanses your pores deeply so that your face can breathe easily. It reduces pimples and blackheads and also prevents acne formation. The facial is much better and more efficient than just a face wash and water.
Exfoliates skin
The facial process has better exfoliation than you can achieve at home. Exfoliation makes your skin smooth, opens your pores, deep cleanses the pores of your skin, and allows better penetration of moisturizer in the skin.
Increases Blood Circulation
The massaging strokes performed as a part of the facial process enhances the blood circulation under your skin. This removes your dead skin and promotes the regeneration of skin cells and you get a clean radiant face. It helps to protect your skin's health.
The waste under the skin influences the lymphatic system. It results in puffiness and ruddiness. Facial detoxifies the skin and clears waste beneath the skin. A monthly facial is beneficiary to clear waste from the skin.
Hydrates the Skin
Whatever is the type of your skin, it may be dry, oily, or normal, your skin needs water to be fresh. Even if you drink plenty of water, your skin still needs regular hydration. Outside factors such as sun rays, wind, pollution, etc dehydrate the skin.
Thankfully, facial offers your skin that much-required moisture and replenishes the skin sufficiently.
Facial works great on fine lines. It slows down your aging signs and helps you to look young and glowing. Massaging strokes activate collagen production which is the building block of your skin. It prevents lines, wrinkles, and sagging. Facial removes dead skin cells and restores new skin cells. The massage procedure helps to tighten the face as well as softens the skin.
Related Post- Electric Facial Massage Benefits- Should you Try?
Clears Dark Spots
Dark spots can be clearly seen on the skin and are mainly caused by stress. A regular facial can help to get a glowing spotless face. Facial lightens dark spots and lightens the skin tone.
Protects the Skin Health
The facial is not a medicinal process nor it can do any wonder overnight. But monthly facial can protect your skin by removing dirt, pollution, and the effects of sunlight. It will make your skin healthier and brighten your complexion.
Shop for Latest Trendy Drop Earrings starting at $7 – Free Delivery in the USA
Relaxation
Apart from cleansing and toning, a facial is a very relaxing process. Stress may lessen your skin cells' life and stimulates acne. Professional hands can heal your stress with the magic touch, professional technique, and awesome massage. It also relaxes the nerves of the face.
In short, a monthly facial is your way to beautiful, glowing facial skin as well as self-care time to rejuvenate mentally as well.
Tips to Follow Before Your Monthly Facial
A monthly Facial is your ticket to the flawless, illuminating complexion of your face. However, you need to follow these tips before heading to a spa, check now-
Do not indulge in deep skin treatment at home before your facial. This can irritate your skin.
Waxing or shaving before facial should be clearly refrained from as these can cause skin inflammation.
Do not pop or scratch your pimples/ blackheads. Let the experts treat your skin condition.
Also, avoid sun exposure just before your facial.
 A type of facial suitable for your friend may not be suitable for you. Therefore, do not choose your facial type blindly.
Talk to the spa expert about your skin type as well as your skin problems. After discussion, decide the facial that works best for you.


Shiseido – 2e Sunscreen Non-chemical SPF 45 PA++++ 40g
After Facial Tips, You Need to Follow
To maximize the benefits of a monthly facial, you need to follow these essential tips-
Do not exfoliate your skin for the next 5-7 days after the facial as over-treatment will irritate the skin.
After a facial, your skin is fresh and sensitive, therefore completely avoid direct sun exposure. This would help the facial ingredients to absorb into the skin.
Do not cleanse your face with a cleanser or soap for the next 24 hours. Your face is already cleansed and it will take a day or so for the skin to absorb the goodness of the facial.
Avoid frequent facial treatment. Once in 28 days is sufficient for your skin.
Never wax or shave your skin just after a facial.
Follow all these tips to get the best experience of a  monthly Facial session.
Related Post: