This burrata appetizer recipe is fully equipped with bursting cherry tomatoes and grapes along with fresh herbs and mounds of fresh burrata cheese.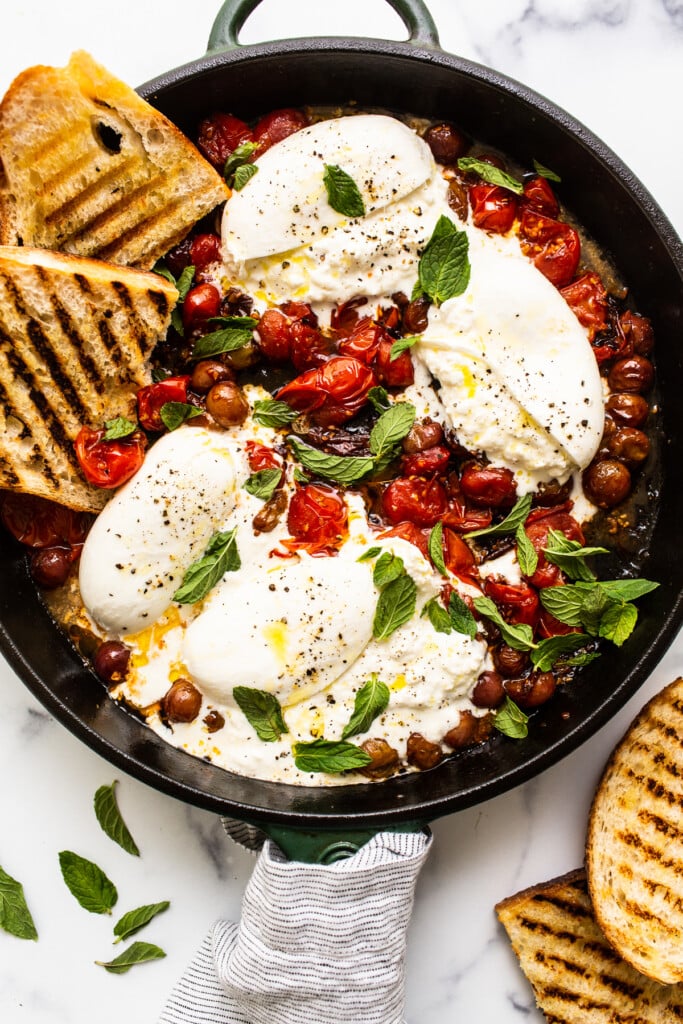 Favorite Burrata Appetizer!
Garden overflowing with cherry tomatoes? We've got the perfect summer appetizer for you — bursting cherry tomatoes and grapes with fresh herbs and ooey gooey burrata cheese.
This burrata appetizer is the perfect thing to whip up to share and is incredibly delicious and eaten with homemade crostini.
Why you'll love it!
Summer seasonal
Perfect for sharing
Veggie-packed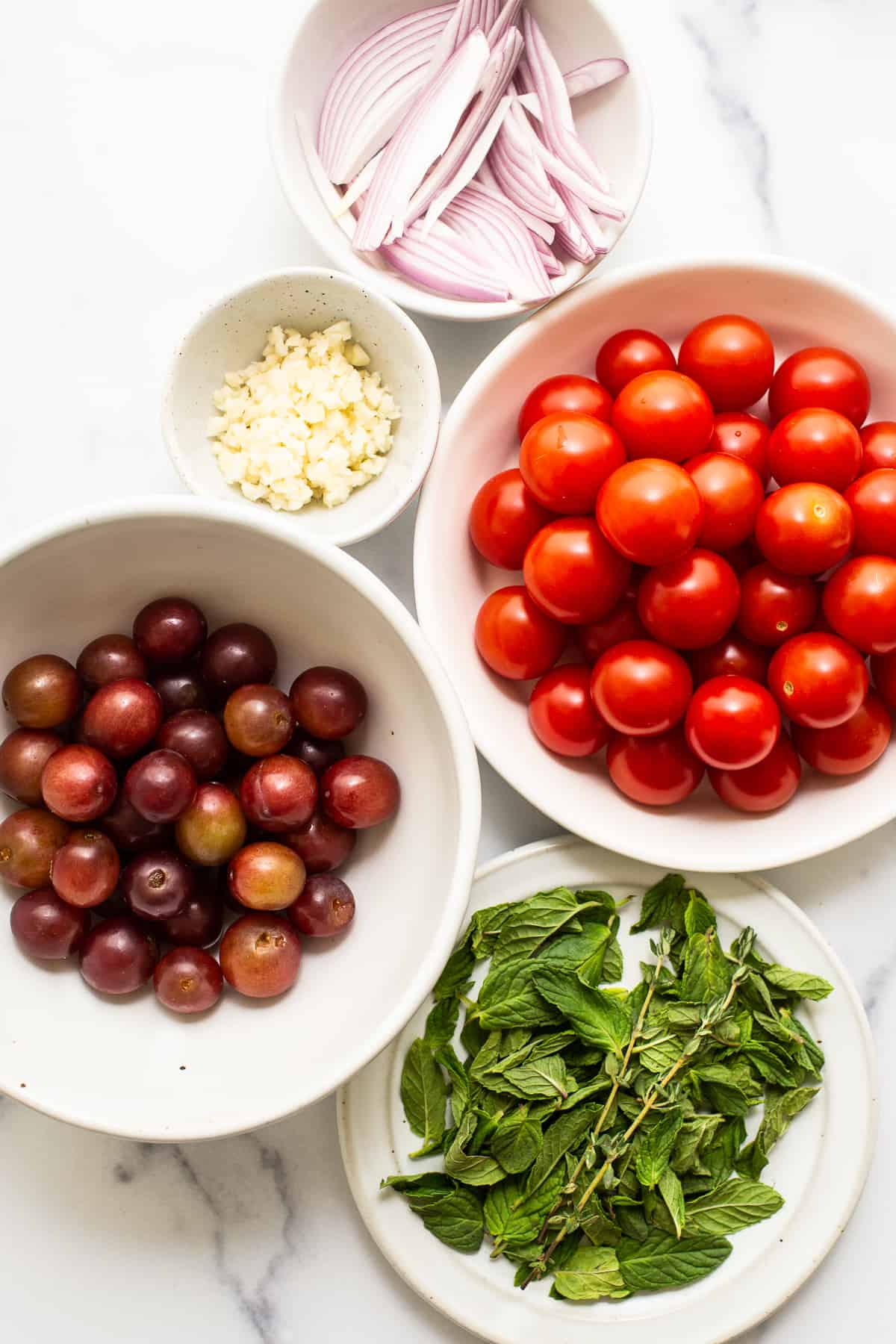 Featured Ingredients
Cherry tomatoes: cherry tomatoes are the perfect little plump veggie to roast up and serve with burrata.
Grapes: grapes may throw you for a loop, but they're actually the secret ingredient of this app! They add a little sweetness and pair perfectly with the tomatoes and burrata.
Garlic and Shallot: when in doubt, add more garlic and onion! They truly add so much to this recipe. Feel free to swap the shallot for onion.
Burrata cheese: burrata cheese is the star of the show. It's a mild, soft cheese made from mozzarella and cream and is perfect for scooping!
Fresh herbs: top your appetizer off with any fresh herbs growing in your garden. We featured fresh mint, but basil would also be delicious.
Dipper Ideas
Every dippable app like this deserves to be scooped with something glorious. Here are some ideas:
Crostini
Crackers
French bread
Pita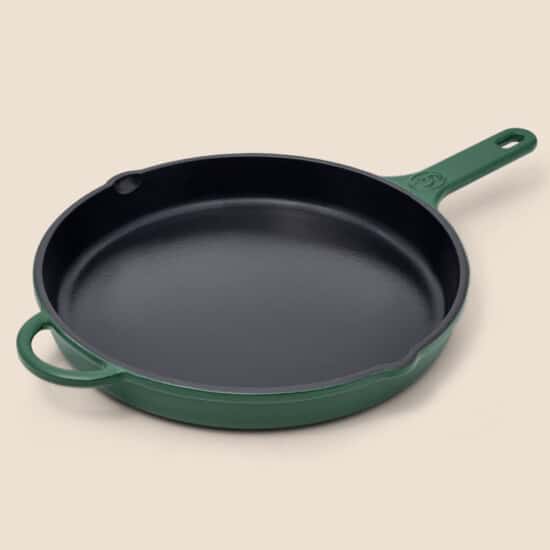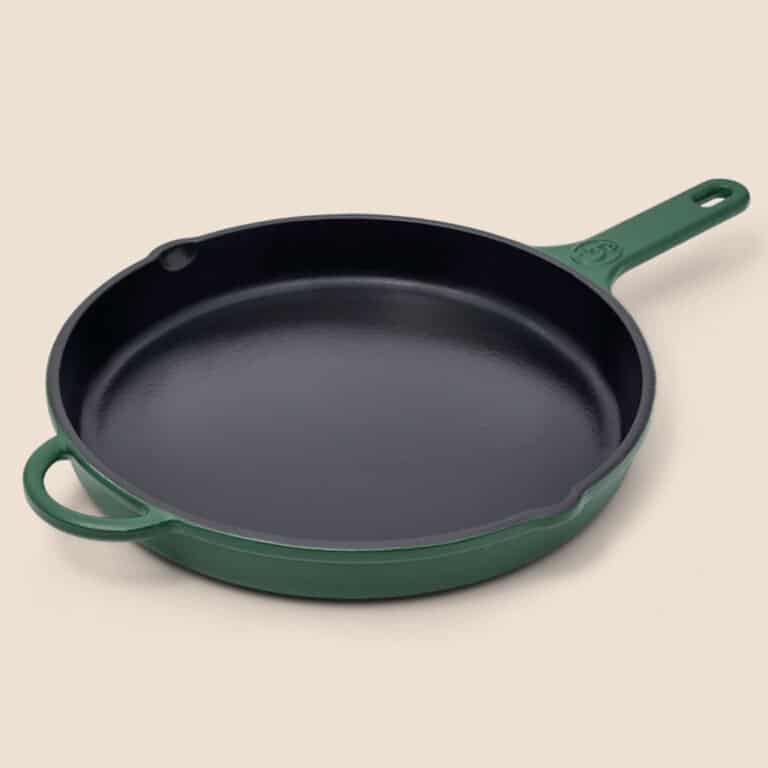 Great Jones
Cast Iron Pan
The Great Jones King Sear is our favorite cast iron pan. It's definitely worth the splurge to add to your kitchen collection!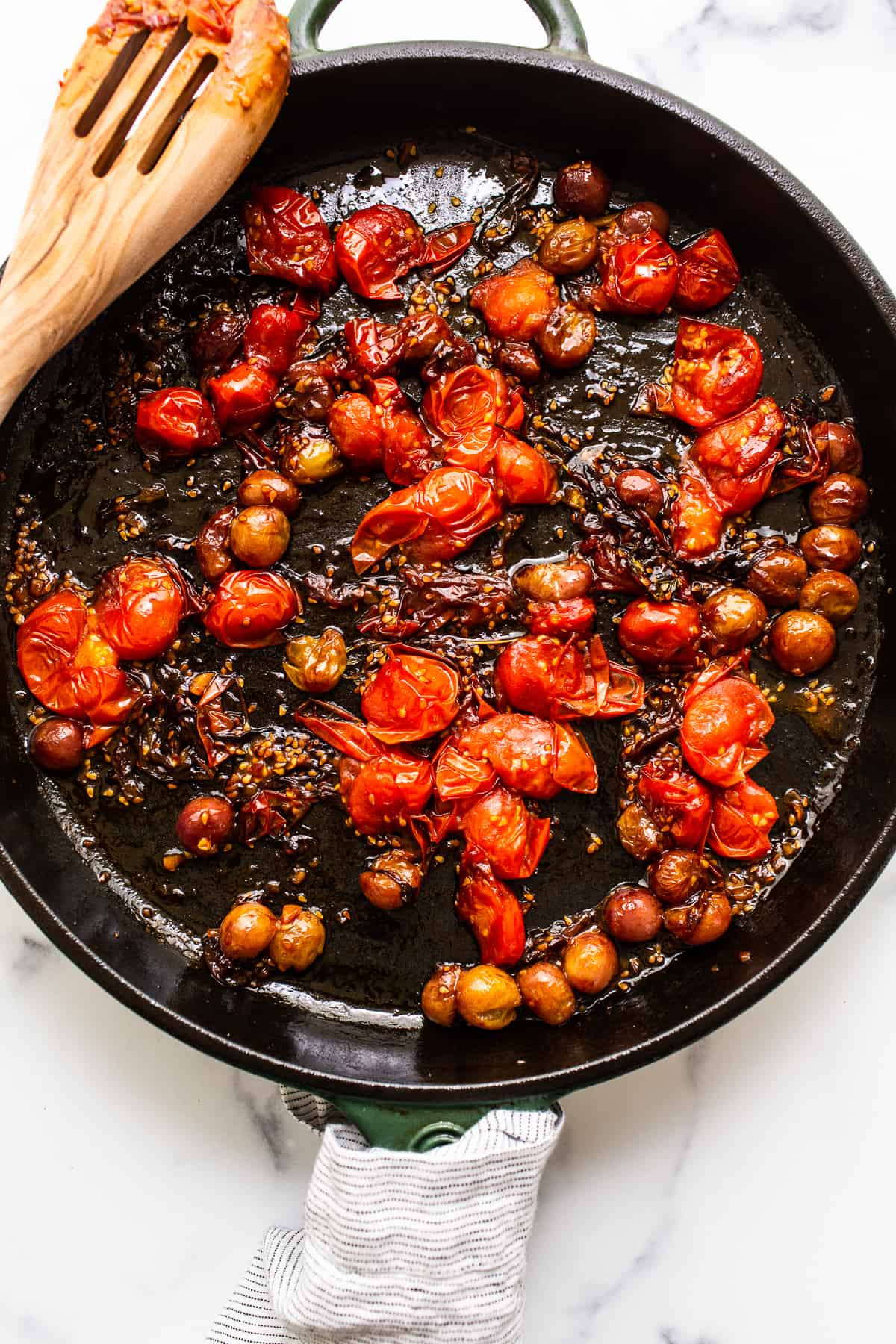 Simple Instructions
Cook shallot and garlic: add olive oil to a cast iron skillet and cook the shallot and garlic.
Add cherry tomatoes and grapes: add the cherry tomatoes and grapes and drizzle with vinegar.
Cook down: cover the skillet and cook the tomatoes low and slow for 10 minutes. Remove the lid and toss. Cook for an additional 10 minutes or until all the liquid has cooked off.
Add burrata cheese: break your burrata cheese into large pieces and spread it out over the tomatoes.
Add toppings: top the burrata with a drizzle of olive oil, freshly cracked black pepper, and fresh mint.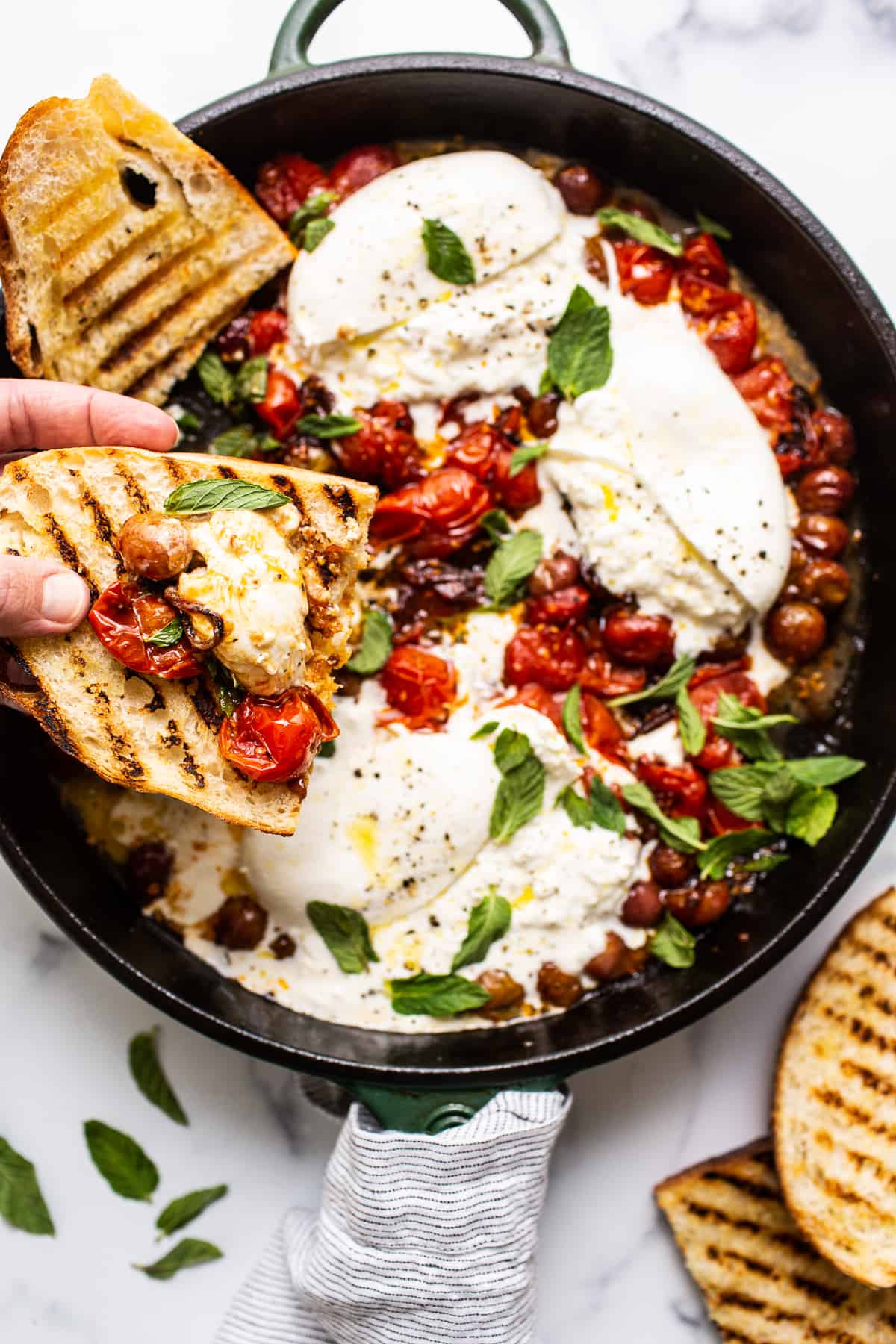 Variations
Use a different tomato: garden bursting with a different tomato variety? Use that instead! Just make sure to chop them up into bite-sized pieces.
Use a different cheese: can't find burrata? Use a different soft cheese such as mozzarella or goat cheese.
Top with balsamic glaze: Want a little more oomph? Top your burrata appetizer with a balsamic reduction.
Storage
Store any leftovers in an airtight container in the fridge for up to 3 days.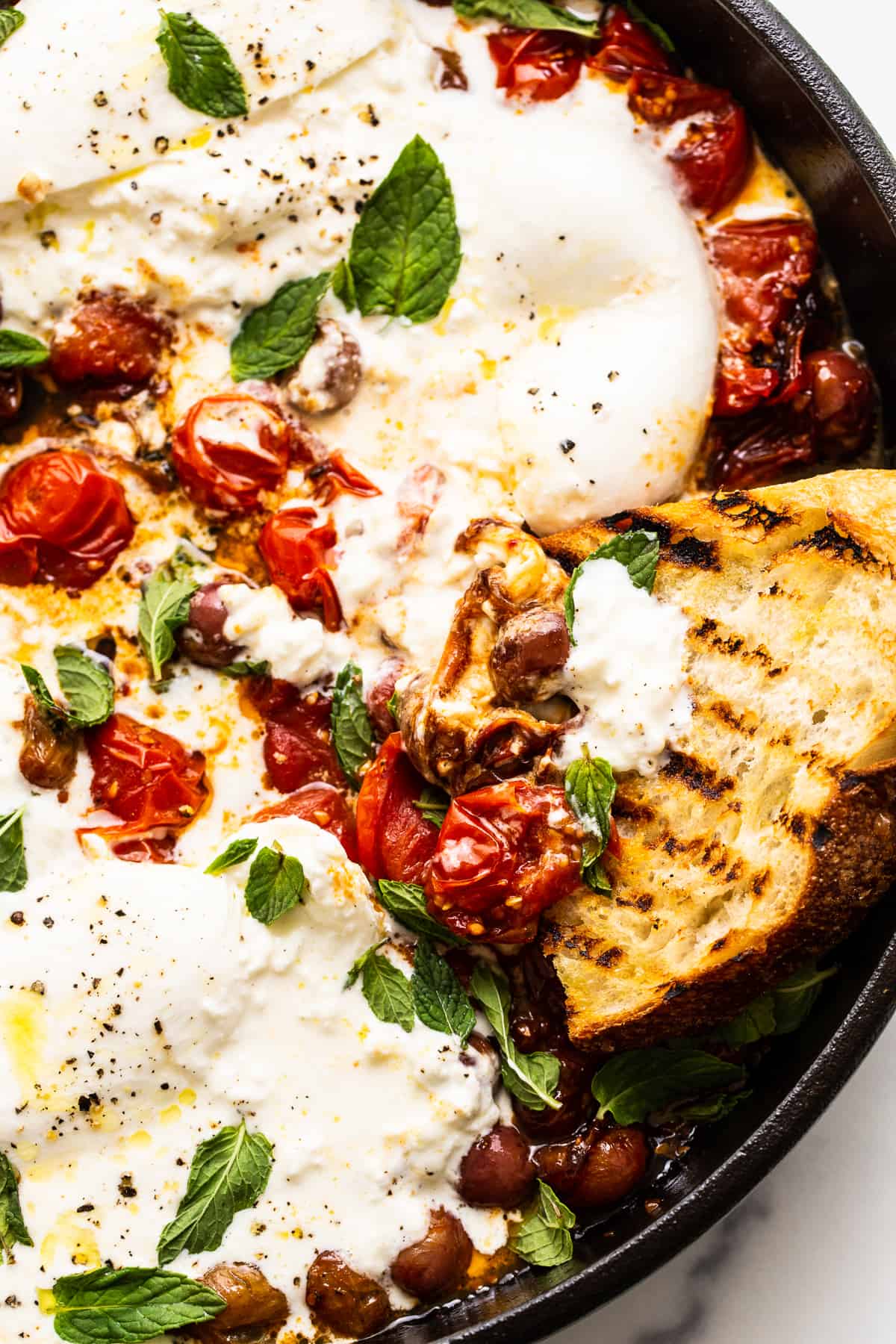 Photography: photos taken in this post are by Ashley McGlaughlin from The Edible Perspective.