U.S. Secretary of State Antony Blinken will travel to Beijing this weekend, the State Department announced Wednesday, as the U.S. confronts a spate of intensifying diplomatic challenges with China. His visit there will be the first by a Secretary of State since 2018, and the first by a cabinet-level official since 2019. 
In a briefing call Wednesday, senior U.S. officials acknowledged that the meeting came at a "crucial time" in the relationship but downplayed expectations for major "deliverables."  
"We're not going to Beijing with the intent of having some sort of breakthrough or transformation in the way that we deal with one another," said assistant Secretary of State for East Asian and Pacific Affairs Daniel Kritenbrink. "We're coming to Beijing with a realistic, confident approach and a sincere desire to manage our competition in the most responsible way possible." 
"Efforts to shape or reform China over several decades have failed, and we expect China to be around to be a major player on the world stage for the rest of our lifetimes," deputy assistant to the President and Coordinator for the Indo-Pacific Kurt Campbell said. "As the competition continues, the PRC will take provocative steps — from the Taiwan Strait to Cuba — and we will push back. But intense competition requires intense diplomacy, if we're going to manage tensions."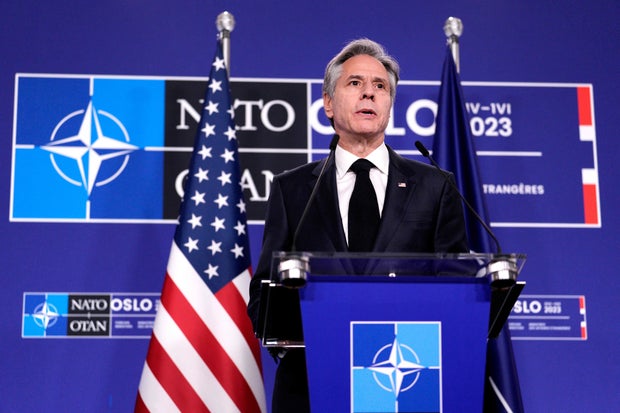 The officials declined to detail the Secretary's schedule while in Beijing, including whether he would meet with Chinese president Xi Jinping, but said diplomats on both sides had invested "many hours" preparing for meetings to "facilitate substantive dialogue in the days ahead."  
"In the course of those discussions, both sides have indicated a shared interest in making sure that we have communication channels open and that we do everything possible to reduce the risk of miscalculation," Kritenbrink said. 
Blinken's visit is the culmination of a series of carefully orchestrated meetings between U.S. and Chinese officials in the past several weeks. Relations between Washington and Beijing plummeted following the February shootdown of a Chinese surveillance balloon that crossed into American airspace — an incident that derailed a previously planned trip by Blinken to the Chinese capital, where he was expected to meet with President Xi Jinping.  
Speaking at the G-7 summit in Japan last month, U.S. President Biden predicted that the chill in U.S.-China relations would "thaw very shortly." It later emerged that National Security Adviser Jake Sullivan met with China's top foreign policy official, Wang Yi, in Vienna, and that CIA director William Burns had discussions with his intelligence counterparts in Beijing.  
Since then, senior Commerce, State Department and White House officials have held meetings with Chinese officials in both the U.S. and China.  
But the growing number of official interactions has coincided with a series of uncomfortable revelations, including a recent acknowledgment by the Biden administration that China had established surveillance posts in Cuba, just 100 miles from the U.S.'s southeastern border.   
Over the weekend, an administration official said Mr. Biden's team had learned upon taking office of China's efforts to "expand its overseas logistics, basing, and collection infrastructure globally," including by establishing – and upgrading as recently as 2019 – intelligence collection facilities in Cuba.  
The Chinese government "will keep trying to enhance its presence in Cuba, and we will keep working to disrupt it," the official, speaking on condition of anonymity to discuss a sensitive issue, said.   
State Department spokesperson Matthew Miller said on Tuesday that the U.S. had raised "concerns" privately with the Cuban government about the arrangement, declining to provide additional details. 
In Wednesday's call with reporters, Campbell said private diplomatic efforts by the Biden administration had, in the view of U.S. analysts, "impeded, slowed and even stopped" some attempts by China to enhance its intelligence gathering and military operations worldwide.   
The news of the Cuba facilities followed other provocative moves by China, including two military interactions that U.S. officials have decried as dangerous.  
A Chinese warship carried out what the U.S. called an "unsafe" maneuver in the Taiwan Strait, cutting sharply across the path of an American destroyer. The U.S. also accused a Chinese fighter jet of performing an "unnecessarily aggressive maneuver" by flying directly in front of an American spy plane in late May over the South China Sea. 
Thanks for reading CBS NEWS.
Create your free account or log in

for more features.