Russian nuclear weapons "three times more powerful" than those used on Japan during World War II have already been delivered to Belarus, which borders Ukraine, the country's autocratic leader Alexander Lukashenko said in videotaped remarks broadcast Tuesday. His announcement came just days after Russian President Vladimir Putin said his country would deploy tactical nuclear weapons to Belarus in July. 
In remarks aired on both Russian and Belarussian state television channels, Lukashenko said he wouldn't hesitate to use the nuclear weapons or join Russia's war on Ukraine if there was "an aggression" against Belarus.
"God forbid I have to make a decision to use those weapons today, but there would be no hesitation if we face an aggression," Lukashanko said. He added later that he would consult with Putin before using any nuclear weapons.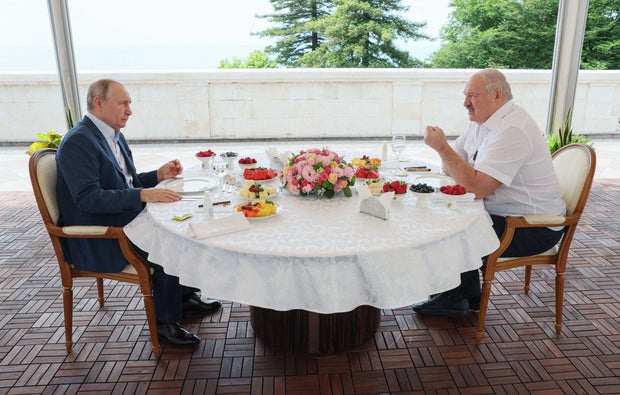 "I pick up the phone, and wherever he is, he picks it up," Lukashenko said. "If he calls, I pick it up any time. It's no problem at all to coordinate launching a strike."
Putin announced in March that Russia would send tactical nuclear weapons to Belarus, one of its few allies in the region. Last week, in a televised portion of a meeting between the two leaders, Putin said preparations required for the deployment of the weapons would be finished by July 7 or 8.
Lukashenko said the Russian nuclear weapons were already arriving "little by little" in his country, calling them "three times more powerful than those [dropped by the U.S. on] Hiroshima and Nagasaki" in 1945.
"I believe no one would be willing to fight a country that has those weapons," Lukashenko said, adding that he had asked Putin to deploy the nuclear weapons to Belarus as a deterrence.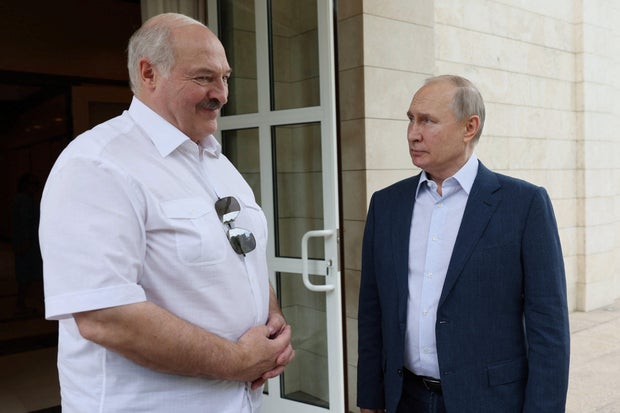 Tactical nuclear weapons are intended for use on the battlefield and have a lower yield than strategic nuclear warheads, which can be fitted to intercontinental missiles and destroy entire cities.
Lukashenko said Tuesday that his country was also setting up facilities for nuclear-tipped intercontinental missiles — also as a deterrent measure.
"Am I going to fight America? No," he said.
Thanks for reading CBS NEWS.
Create your free account or log in

for more features.