The first Prime Day-like sale for just style is here.
What is the Amazon Big Style Sale
Believe it or not, this is Amazon's first foray into a traditional fashion sale a la J.Crew or Nordstrom. While style items regularly receive discounts and are included within Prime Day, this is the first dedicated style sale.
It includes discounts across the men's, women's, and kid's sections and features clothing like jackets, shirts, pants, and shorts as well footwear, watches, sunglasses, underwear, workout clothes, and more. Basically, if it's sold in a clothing store, it's included. Take a look now –
What Brands are Included?
This sale includes things for the everyday budget style shopper – think discounts on Levi's, Ray-Ban, Champion, Dockers, Timex, Seiko, house lines like Goodthreads, and more.
Plus, and this may be news to a lot of guys who don't shop for clothing on Amazon, the sale will include more upscale men's fashion brands like Club Monaco, Faherty, Baracuta, Alpha Industries, Billy Reid, Frame, Gitman Vintage, Naked & Famous, Rag & Bone, Reigning Champ, Ted Baker, Theory, and Armani Exchange.
How Long Will It Last
So far, the exact end day is a little nebulous, but it will be for sure running for a few days, with new discounts and daily deals added each day.
Our Picks
Check back for more as we come across things.
Most of the picks below are available in multiple colors.
For items that we've previously featured or already have, we've included our own photos.
Shirts
J.Crew Mercantile Slim-fit Tropical Printed Shirt, $29 $38.98
There's no question floral shirts have become a stylish go-to for the last few summers, but at an affordable price-point it's a struggle to find one that doesn't skew to Magnum PI. This subdued bi-color slim shirt has been one of my favorites. Nail the fit with How an Untucked Shirt Should fit.
Goodthreads Short-Sleeve Henley, $16.25 $20.04
Goodthreads Long-Sleeve Raglan T-Shirt, $16.25 $23.07
Banks Journal Floral Shirt, $34
Jackets
Baracuta Classic G9, $293 $390
Also available in black
Goodthreads Moto Jacket, $57 $95
See our full feature on this Barbour alternative with more photos.
Baracuta Field Jacket, $396
Calvin Klein Flight Jacket, $58.30 $79.99
American Apparel Twill Tab Collar Long Sleeve Shirt, $68 $74
American Apparel Flex Fleece Zip Hoodie, $26
Calvin Klein Denim Trucker Jacket, $35 $79.99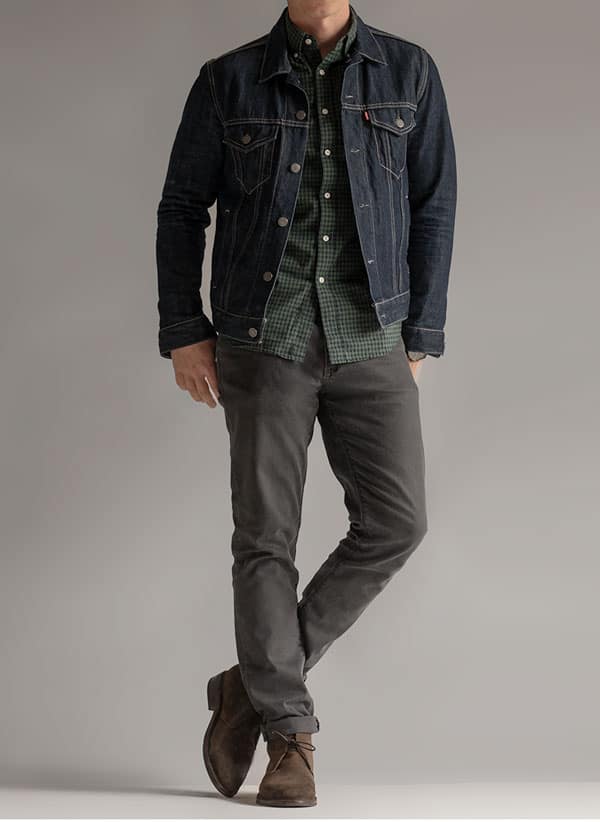 Levi's Trucker Jacket, $53 $89
Primer's Getup collection is full of Levi's denim jacket outfits, like this one Live Action Getup: What to Wear to an Evening Brewery Tour.
Shorts & Pants
Amazon Essentials 9″ Classic-fit Flat-Front Linen Short, $13.65
J.Crew Men's Stretch Dock Short, $34.99
Calvin Klein Skinny Fit Jeans, $29.99 $70
Dockers All Season Tech Pants, $31 $40
Emporio Armani Men's 3-Pack Cotton Trunks, $28 $33
2(x)ist Cotton Stretch No-Show Trunk 3-Pack, $22.99 $42
Sperry Striper II Salt Washed Sneaker, $39.93 $60
Featured as an affordable alt in our recent Summer Blues Getup.
Watches
Bulova Lunar Pilot Chronograph Watch, $315.99 $675
Timex Expedition Gallatin Solar-Powered Watch, $40.12
Invicta Pro Diver Stainless Steel Automatic Watch with Link Bracelet, $83.56
Citizen Eco Drive Promaster Diver Watch, $149.99
Timex Expedition Scout Chronograph Watch, $56.87
Timex Weekender Two-Piece Leather Strap Watch, $48.79
Timex Weekender XL Watch, $38.68
Sunglasses
Ray-Ban Hexagonal Flat Lenses Sunglasses, $123.20
Ray-Ban Aviator Classic Gradient Sunglasses, $135.20
Ray-Ban Erika Round Sunglasse, $105.60
Ray-Ban Hexagonal Sunglasses Rectangular, $143.20
Ray-Ban Round Fleck Sunglasses, $132
Ray-Ban The Marshal Sunglasses, $132
Check back for updates as we find more picks and deals are released.