Officials at the Philadelphia Zoo are working with the U.S. Department of Agriculture to solve the mysterious deaths of all five of the zoo's meerkats.
In less than a month, the five meerkats — Nkosi, Lula, Nya, Kgala, and Ari — became acutely ill and died, an official told CBS News. 
"Before the team could intervene, Nkosi, one of the males, passed," Amy Shearer, the chief experience officer at the zoo, said. "Despite best and almost heroic efforts by the veterinary and keeper teams, Lula, Nya and Kgala passed away shortly thereafter, and Ari, the remaining meerkat, died earlier this week."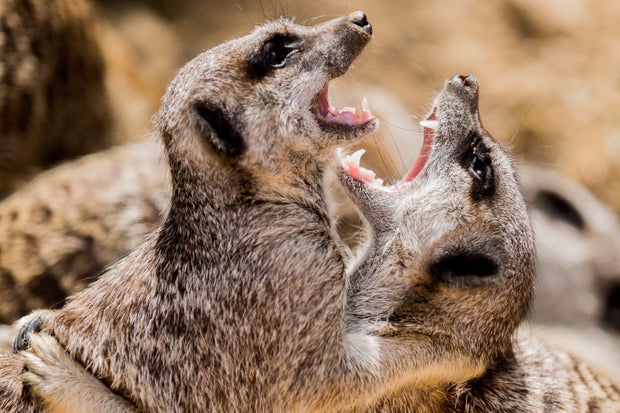 A member of the mongoose family, meerkats — also known as suricates — are active carnivores that live in burrows in Africa. 
The five were brought to the Philadelphia Zoo as a group of siblings in 2013. 
Necropsy results are pending to determine how the meerkats died, but officials have identified a possible culprit. 
"We suspect that they may have accidentally consumed something toxic," Shearer said, singling out an agricultural dye known as Nyanzol-D. "We have used this animal dye…for over 30 years." 
The dye is routinely used to mark animals and differentiate them, Rachel Metz, the zoo's vice president of animal well-being, told CBS Philadelphia. 
The dye was used on the meerkats on June 1, and one of them was found dead about 30 minutes later, officials told the Associated Press. The four others started showing signs of acute illness shortly afterward, prompting veterinary staff to anesthetize them and pump their stomachs, AP reported.
Shearer said that the zoo is working with the Association of Zoos and Aquariums, in addition to the Department of Agriculture, to find out all the facts and determine exactly what caused the deaths. 
Michael Roppolo is a CBS News reporter. He covers a wide variety of topics, including science and technology, crime and justice, and disability rights.
Thanks for reading CBS NEWS.
Create your free account or log in

for more features.